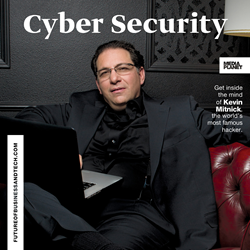 NEW YORK (PRWEB) November 30, 2017
Mediaplanet announces the launch of this fall's edition of "Cyber Security," a campaign that aims to raise awareness on the frequency of cyber crimes and the risks associated with such attacks. The campaign also aims to inspire individuals and enterprises to see vital cyber security solutions and training available today, highlighting the myriad resources available for businesses that want to take steps to increase their cyber security, as well as for those who have already fallen victim to a cyber crime.
In the past few months alone, the Equifax breach compromised the personal information of over 143 Million American and more than 300,000 computers were kicked offline in the WannaCry attack; It's clear that individuals and enterprises remain vulnerable to breaches. "It can take a seminal attack like this to make us all pay attention," writes "Shark Tank" star and global IT security expert Robert Herjavec. In his 8-step action plan for companies impacted by the Equifax attack, he stresses key things for all businesses to keep top of mind. "When an incident occurs, it's imperative to contain the breach and get back to standard operations as quickly as possible," he writes. "To do that, you need to have a baseline. What did "good" look like? Where are the key assets that the business cares about, and were they impacted? What processes or technology failed, allowing the attack?"
The digital component is distributed nationally, through a vast social media strategy, and across a network of top news sites and partner outlets. To explore the digital version of the campaign, click here.
In this campaign, the National Security Agency encourages everyone to play a role in heightening our country's cyber security. Deputy Director George C. Barnes writes, "All Americans need to join the ranks of cyber security professionals to understand the threat to their data and what they must do to protect themselves online."
This campaign was made possible with the support of Uniken Inc., Foresout Technologies, RSA Security, ARM ltd., Eplus Technologies, AgileBits, Frank Abagnale, Kevin Mitnick, the National Security Agency, the Identity Theft Council, FIDO Alliance and the Coalition Against Insurance Fraud.
About Mediaplanet
Mediaplanet specializes in the creation of content marketing campaigns covering a variety of industries. We tell meaningful stories that educate our audience and position our clients as solution providers. Our unique ability to pair the right leaders with the right readers, through the right platforms, has made Mediaplanet a global content marketing powerhouse. Our award-winning stories have won the hearts of countless readers while serving as a valuable platform for brands and their missions. Just call us storytellers with a purpose. Please visit http://www.mediaplanet.com for more on who we are and what we do.
Press Contact:
Luke Solomon
Luke.solomon(at)mediaplanet(dot)com
(646) 755-7959