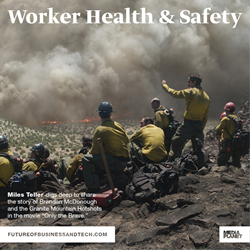 Beyond our first responders there are millions of workers at risk within their hazardous occupations...
NEW YORK (PRWEB) November 30, 2017
Kicking off at the International Safety Equipment Association's annual meeting this week, this campaign will advocate for proper education, new innovations, and workplace leadership to instill a culture of safety that reduces risk for injury and death.
There's no question that our country has made great progress in protecting workers in factories, food service, construction sites and other workplaces over the past few decades. However, despite this progress, 12 Americans still die on the job every day, and another 4 million workers suffer from on-the-job injuries each year. One death is too many. We need to put an end to workplace fatalities. To raise awareness about this problem, Mediaplanet created Worker Health and Safety as an educational publication that has united industry members, inspiring deeper conversation about safety culture.
The print component of "Worker Health and Safety" campaign is distributed as an exclusive publication at the ISEA Annual Meeting, Safety Leadership Conference, National Conference on Worker Safety and Health, World of Concrete, SeminarFest, Cutting Edge Safety, AIHce EXPO 2018, and ASSE Safety 2018 with a circulation of approximately 50,000 copies and an estimated readership of 150,000 safety leaders across the nation. The digital component is distributed nationally, through a vast social media strategy, and across a network of top news sites and partner outlets. To explore the digital version of the campaign, click here.
Miles Teller, actor, and star of the film "Only the Brave" has joined us in honoring our First Responders, who make up the largest at-risk workforce globally. The story told in this film is that of Brendan McDonough and the Granite Mountain Hotshots, who on this day faced an inferno near Yarnell, Arizona and 19 of 20 souls were lost. Within this publication we have dedicated a portion to our First Responders, who every day put their lives on the line for the well-being of public safety –this type of bravery often goes unrecognized and is important that we share the stories of the fallen.
Beyond our first responders there are millions of workers at risk within their hazardous occupations, and are part of industries that keep our world progressing, advancing, and reaching new heights. This campaign speaks to the leaders who spearhead safety while embodying the importance that each individual is a part of the safety process. Safety is a team effort, and together, as a team, we can end workplace injury and death; because everyone deserves to go home safely to their friends and family.
This campaign was made possible with the support of Honeywell, DuPont, safeTstep, Westchester Protective Gear, iQ Power Tools, The National Institute for Occupational Safety and Health, International Safety Equipment Association, Occupational Safety & Health Administration, The American Society of Safety Engineers, National Safety Council, American Industrial Hygienist Association, America Society of Concrete Contractors, American Concrete Pumping Association, and the Mason Contractors Association of America.
About Mediaplanet 
Mediaplanet specializes in the creation of content marketing campaigns covering a variety of industries. We tell meaningful stories that educate our audience and position our clients as solution providers. Our unique ability to pair the right leaders with the right readers, through the right platforms, has made Mediaplanet a global content marketing powerhouse. Our award-winning stories have won the hearts of countless readers while serving as a valuable platform for brands and their missions. Just call us storytellers with a purpose. Please visit http://www.mediaplanet.com for more on who we are and what we do.
Press Contact:
Alexandra Flecha-Hirsch
alex.flechahirsch(at)mediaplanet(dot)com
(646) 979-2835