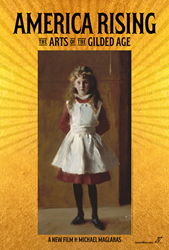 "Professor David Lubin's interviews and his perspective on American art and culture in the years during the Great War made all the difference in the quality of this film." Michael Maglaras, Director
WINSTON-SALEM, N.C. (PRWEB) November 30, 2017
Independent filmmakers Michael Maglaras and Terri Templeton of 217 Films announce the North Carolina premiere of their new film project highlighting works of art from what Mark Twain described as "The Gilded Age."
The film is titled "America Rising: The Arts of the Gilded Age" and will screen one-night-only at Reynolda House Museum of American Art on Thursday, December 14 with a 6:00 PM reception and 6:30 PM screening.
Clips from the film can be viewed at this link: https://vimeo.com/two17films
Featuring the only known film footage of Mark Twain, who gave "The Gilded Age" its name, "America Rising" tells the story of how, after the Civil War, American art and American artists came into their own on the world stage. In painting, in sculpture, in architecture, and in music, America found its artistic soul and voice in the art created during the explosion of American economic growth, which Mark Twain wrote about in his novel, "The Gilded Age: A Tale of Today."
"We're particularly delighted to be showing this film at Reynolda House, with its incomparable American collection, which in my view is second to none," said the film's director Michael Maglaras. "The fact that Professor David Lubin of Wake Forest will be in the audience for this screening is a great honor for us. David's interviews in our film and his perspective on American art and culture in the years during the Great War, which America entered late, made all the difference in the quality of this film."
Using more than 90 works of art, featuring painters as diverse as Childe Hassam, Winslow Homer, Maurice Prendergast, and John Singer Sargent, and with the great public sculpture of creative geniuses such as Augustus Saint-Gaudens and his "Robert Gould Shaw Memorial" (referred to in the film by Director Maglaras as "the finest piece of memorial sculpture in America"), "America Rising" creates a portrait of a country reinventing itself, after the tragic events of the Civil War, as a major artistic force. "America Rising" shows an America poised, through its art, to commemorate its past and invent its future.
What:
"America Rising: The Arts of the Gilded Age"
North Carolina premiere film screening with introduction and Q&A by the filmmakers and professor David Lubin.
When:
Thursday, December 14, 2017
6:00 PM – Reception
6:30 PM -- Screening
Where:
Reynolda House Museum of American Art
2250 Reynolda Rd., Winston-Salem
Tickets:
$15
Purchase Online:
http://reynoldahouse.org/calendar/event/directors-screening-of-america-rising-the-arts-of-the-gilded-age?display=defaultReception