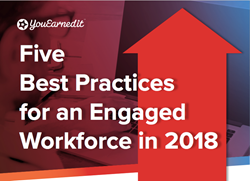 AUSTIN, Texas (PRWEB) November 29, 2017
YouEarnedIt, the leading HR SaaS company that improves bottom-line performance metrics by enhancing the employee experience, today released Five Best Practices for an Engaged Workforce in 2018.
YouEarnedIt's guide for an engaged workforce analyzed this year's trend reports, industry influencer interviews, and market research to create an actionable plan for HR professionals to implement in 2018.
The guide offers a proactive approach to five of the business challenges HR leaders are set to encounter in 2018:

Continuous listening
Employee experience roles
Machine learning
Performance reviews
Competitive talent market
"With 2018 forecasted to be one of the most competitive talent markets for U.S. companies, it is critical for HR leaders to understand how to engage their workforce and create a positive employee experience," said Autumn Manning, co-founder and CEO of YouEarnedIt. "Companies that commit to addressing these five best practices will attract and retain top performers while maximizing their business potential and positioning their companies to profit."
To read Five Best Practices for an Engaged Workforce in 2018, download the guide here.
About YouEarnedIt
YouEarnedIt is the employee experience platform powered by the science of motivation and the mission of improving the lives of employees everywhere, one company at a time. Founded in 2013, YouEarnedIt grows company culture and improves bottom-line performance metrics through its robust engagement platform that delivers recognition, rewards, incentives, and team insights. Named to Entrepreneur Magazine's list of Best Company Cultures in 2017, the Austin-based SaaS company and its technology platform are built on the four pillars of employee experience: connection, meaning, impact and appreciation. To request a demo, visit http://www.youearnedit.com/demo.