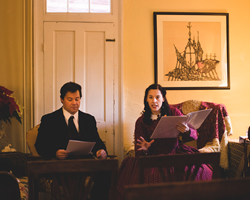 MT. AIRY, Md. (PRWEB) November 29, 2017
Elk Run Vineyards and Winery celebrates the Holiday Season with a Local Artisans Craft Fair, including wine tastings on Saturday and in addition on Sunday afternoon, Christmas Readings with professional performers, and a strolling minstrel in the 1750's home on the property served with tasty cookies and appetizers from that time period.
"Honoring our fore fathers efforts in farming, we continue to grow in Frederick County in agricultural maturity and diversity. Looking over our thirty seven year old vineyard with memories of each vintage, we welcome our many guests over the years come and taste the fruits of our labor anticipating a new 2017 vintage and welcoming the holiday season," says Carol Wilson, owner of Elk Run Vineyards & Winery.
Elk Run Vineyards Vineyard produces all Classic Vinifera Grapes, the oldest grafted vines in Maryland at their vineyard located at 15113 Liberty Rd. Mt. Airy, MD.21771
For information on cost, reservations, crafts, performers, music, and wine varietals go to our website.