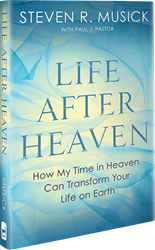 I am personally more interested in life before death than life after, but Steven has done a marvelous job bridging the two. I found this book relevant and helpful - William Paul Young, author of The Shack
Denver, CO (PRWEB) December 01, 2017
It is a promise that people have dreamed about for over two thousand years. "Is there a Heaven? What is it like? What does God want to say to us?" All those questions and more are answered in a new book Life After Heaven. The book is an incredible account of a man named Steven Musick from Denver, Colorado who visited Heaven in 1977 after his heart stopped and was in a coma for five weeks.
Based on one man's supernatural experience, Life After Heaven will bring to the silver screen the true story of a financial business executive who finally finds the courage to share an extraordinary, life-altering message from Jesus to the world.
William Paul Young, author of The Shack, gives his take on Life After Heaven saying, "I am personally more interested in life before death than life after, but Steven has done a marvelous job bridging the two. I found this book relevant and helpful."
Watch the trailer here.
The story begins in 1977, when Steven was a twenty-two-year-old soldier in the United States Navy. The military gave everyone a vaccine for the swine flu and Steven suffered an allergic reaction which turned out to be a lethal dose. His heart stopped, and he slipped into a coma for five weeks. While in the coma he went to Heaven, which was filled with vibrant colors and an overwhelming sense of love as he found himself face-to-face with Jesus. Musick describes that Christ looks young and radiated with a light. Jesus walked Musick through fields of flowing grass and reviewed his life since he was born—making known to Steven the intricacies of His plan for Steven's life.
After returning from Heaven, Steven was surprisingly still disabled from the injection—and stayed that way for the next 10 years, until he went to a healing service at a local church. While at the service, people laid hands on Steven and he returned to the same place in Heaven he was at 10 years prior. This time Jesus said to him, "Things will now be different," and immediately he woke up on the floor of the church and was completely healed from his disability.
Surprisingly, it wasn't until after his healing that Steven finally told his wife about his trips to Heaven, and after 40 years since his first experience, he has now shared his story with the world in his book, Life After Heaven. According to Musick, "Heaven is a lot closer than we think. We can feel it and know it now!" As Steven has experienced, "Love is the language of heaven. Love that cares and moves to redeem and even reclaim pain and loss. Love that pulls others closer and walks together with them. Christ is God the Father wrapping His arms around the broken. On this earth, He does that through His people."
Since the release of the book on March 7, 2017, readers have been shocked and encouraged by Musick's story and Steven has been seen and heard in multiple media interviews, including Sid Roth's It's Supernatural, which will air on Daystar and TBN to an audience of 29 million people this November.
Divine providence has led to the book being optioned for a feature film. Screenwriting and pre-production will officially begin in the first quarter of 2018 and will be completed by the end of 2018. The movie will be based on the message in the book, but more broadly, it is a story about Steven's life after Heaven.
About Steven Musick: Steven Musick is the founder of the investment management firm, Destiny Capital. Since 1977, Steven has been in the profession of managing family wealth and has nurtured Destiny Capital from a one-man operation to the comprehensive firm it is today. Additionally, Musick has three master's degrees. Two from the American College: Management and Financial Services, and one from the University of Denver's Josef Korbel School of International Studies in Global Studies. For more information please visit https://stevenmusick.com/.
To schedule an interview, please contact Anika Janelle Pettiford of Elani Studios:
(347)709-6091
anika(at)elanistudios(dot)com