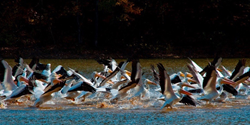 "The more people who become interested in birds, the more they have an interest in habitat or a particular species. You won't save what you don't love, but you'll pour your heart and soul into saving what you do love." Cynthia Routledge
SPRINGVILLE, Tenn. (PRWEB) December 01, 2017
A dream weekend for birders is coming to Kentucky Lake and Lake Barkley on the Tennessee River. The Wings of Winter Birding Festival combines rare "behind the gates" trips to winter waterfowl sanctuaries, tours featuring two rock star birders, a variety of workshops and plenty of camaraderie. The three-day festival is January 19-21, 2018.
Julie Zickefoose is a renowned birder who combines her love of writing and illustrating with her passion for nature. The former field biologist has been a regular contributor to Birder's Digest since 1996. As an NPR contributor, she regaled listeners with the wonders of nature, adding her own, irresistible humorous twists. Her blog is pure edutainment with more than 30,000 monthly readers.
Zickefoose is the author of Letters from Eden and The Bluebird Effect, one of Oprah's Books of the Week in 2012. Her newest work, Baby Birds: An Artist Looks into the Nest offers hundreds of watercolors to help readers follow the process from hatching to fledging and beyond. Zickefoose will guide a Friday field trip to Cross Creeks National Wildlife Refuge and will serve as the keynote speaker at the WOW Saturday evening banquet.
Brian "Fox" Ellis, in the persona of John James Audubon is the perfect complement to Zickefoose. His portrayal of the famed American ornithologist, naturalist and painter will bring an historic quality to his Friday evening presentation. An internationally known storyteller and author of nine books, Ellis has a passion for the environment, literacy and history. He has portrayed Audubon at birding events worldwide and will be in character throughout the festival leading birding/naturalist walks and writing workshops.
Ellis and Zickefoose, along with a host of other experts bring an exciting level of birding expertise and conservation education to the event, according to Cynthia Routledge, co-chair of the festival. The director of Southeastern Avian Research, Routledge views the weekend as an opportunity to help participants "actually see the enrichment that takes place on refuges in the winter. These are sanctuaries for wintering waterfowl to rest and eat and get in shape to return to their breeding grounds up North and create the next generation."
If it sounds odd to allow people behind refuge gates this time of year, Routledge counters that "it pays off to take a few small groups to sanctuary areas. The more people who become interested in birds, the more they have an interest in habitat or a particular species. You won't save what you don't love, but you'll pour your heart and soul into saving what you do love."
Throughout the weekend there are numerous events from which to choose, depending upon participants' special interests. "It's like ordering ala carte, which allows participants to pick and choose their favorite activities," said Joan Howe, co-chair of WOW and a ranger at the Tennessee National Wildlife Refuge.
Saturday, January 20 offers four, all day field trips. These excursions begin and end at Paris Landing State Park and are led by agency staff and expert birders. "These include Land Between the Lakes, with stops at the Woodlands Nature Station, Kentucky Dam and Reservoir and other hotspots along the way," said Howe. Two other trips visit distinctive areas of the Tennessee National Wildlife Refuge that include sanctuary areas of the Duck River Bottoms, and the Big Sandy Unit including a stop at the refuge Visitor Center and Big Sandy Peninsula. "We're proud to also include Pace Point, which is considered one of the top ten birding locations in the state," said Howe.
There are three choices for Saturday morning's half day trips, one of which focuses on the majestic Bald Eagle. Once a rarity in this area, there is no shortage now. The second trip, a Nature Photography Workshop begins with instruction then heads to nearby Fort Donelson National Battlefield for a photo shoot. Finally, Brian Fox Ellis, aka John James Audubon leads a birding walk through Paris Landing State Park.
The Tennessee National Wildlife Refuge Visitor Center hosts several afternoon workshops on Saturday. Because one of the focuses of this festival is new birders, a "Beginning Birding Workshop" is on tap. Nature journaling, poetry and non-fiction writing will be the focus of "Bird is the Word," with Brian Ellis.
Half day trips on Sunday include another chance to go birding with John James Audubon at Paris Landing. Harmon Creek Wildlife Management Area is another destination, along with "Duck Identification on the Wing" and a last glimpse at "What's on the Lake?"
Southern hospitality is in full swing as festival participants are invited to take advantage of special winter pricing at Paris Landing State Park and extend their visit on the Tennessee River. "There is lots of outdoor fun, history, shopping and great eateries to enjoy in our surrounding communities," said Gary McEntire, manager of state park's inn. "You can hike or trout fish at Eiffel Tower Park in Paris, Tennessee, enjoy a National Scenic Byway in nearby Dover, Tennessee or visit several museums in Murray, Kentucky."
Festival registration has been extended through December 15. Register online at the Paris-Henry County Chamber of Commerce, but "don't delay," said Howe. "This festival is filling up like a bird feeder on a snowy day!"