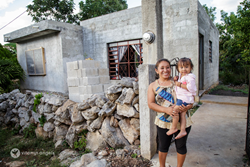 I have been watching this organization for last 20 years, and am amazed with their progress and impact. Founder Howard Schiffer is very genuine and devoted to his goals. It's a beautiful thing to help improve the quality of development at the start of life. - Alicja Wojewnik, Founder
TORONTO (PRWEB) November 30, 2017
Vitarock, online wellness store, announces its choice of Vitamin Angels as its charity partner. Vitamin Angels is a nonprofit organization that helps at-risk populations in need – specifically pregnant women, new mothers, and children under five – gain access to lifesaving and life changing vitamins and minerals In 2017, they are working to reach 60 million mothers and children in 66 countries worldwide, including the United States and Canada.
Vitarock has committed to donate 2 percent of sales to Vitamin Angels starting today, "Giving Tuesday", through to the end of 2018. As a Certified B Corp, part of Vitarock's mission is to make the world a better place, and we have embarked on a "year of giving" campaign for 2018.
Making an Impact Through Ethical Shopping and Conscious Capitalism
Over 90% of Vitamin Angels' expenses go to program expenses. In 2017, this organization has been awarded Guidestar's 2017 Platinum Seal of Transparency, the highest rating for transparency and financial efficiency.
Vitarock's retail business model includes giving back through charitable donations, rigorous screening of suppliers to ensure eco-friendliness and fair trade practices, and measurement of its social and environmental impact. Vitarock was re-certified in October as a B Corporation by the nonprofit organization B Lab, which was created ten years ago to "use business as a force for good" and provide a specific and extensive framework within which businesses can support social and environmental welfare in addition to growing profits. There are now over 2330 Certified B Corporations worldwide in over 50 countries.
Shopping online at Vitarock.com directly impacts great causes through its alignment with brands that give back to their communities, and now 2% of revenue from every order sends money to support at-risk children and mothers served by Vitamin Angels.
To learn more about Vitamin Angels, visit vitaminangels.org.
About Vitarock
Based in Toronto, Canada, Vitarock is an online marketplace featuring 1000s of pure, green, safe & fair wellness products. Vitarock is the go-to shopping destination for ethically-minded people who want to make the world a better place while achieving wellness and joy in their lives.
For more information:
Ian Batt, Vitarock
TF 1-855-735-6536, ext 222 | ian(at)vitarock(dot)com | vitarock.com