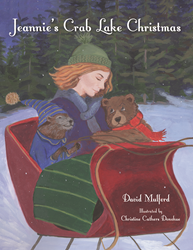 The over-arching theme is the wonder of nature, of all living things and of the seasons, both in life and in the wilderness of the lake country in the very north of Wisconsin. -- David Mulford
Dallas, Texas (PRWEB) November 30, 2017
On December 1, 2017, Arizona-based author and former US Ambassador David Mulford releases the first in his series of imaginative adventures at Crab Lake in his children's book, Jeannie's Crab Lake Christmas (Brown Books Kids).
For David and his wife Jeannie, Christmas was never complete without their visits to the beautiful Wisconsin waters of Crab Lake. These trips, as well as David's love and adoration for his wife, provided the inspiration for these whimsical tales. For the last 27 years, David's Christmas gift to Jeannie, no matter where they've been in the world, has been a new story with Crab Lake as the setting.
"The over-arching theme is the wonder of nature, of all living things and of the seasons, both in life and in the wilderness of the lake country in the very north of Wisconsin," says Mulford. "Each year I have been inspired to find and describe challenges, large and small, that make the human experience miraculous and joyful. Jeannie has always believed in miraculous things, which make the stories very real for her."
Jeannie's Crab Lake Christmas shows an endearing side of this accomplished world traveler, who has had a successful career in international affairs.
"Living in so many places—Oxford, Africa, London, Washington DC, New York, Saudi Arabia, India, and London again—gave me a rich mix of creative ideas and perspectives for writing each year's Christmas gift for Jeannie. Yet the focus every year was on Crab Lake, our retreat to nature and peace."
Beautiful illustrations by Christine Cathers Donohue bring the animals of Crab Lake to life in David Mulford's tale of friendship, family, and fun. This charming tale will inspire young readers to believe "anything is possible."
For more information, please visit http://www.DavidMulfordBooks.com.
About Brown Books Publishing Group (BBPG)
Founded by Milli Brown in 1994, Brown Books Publishing Group is a full-service, independent publisher of high-quality books across all genres, from nonfiction to fiction. Committed to producing award-winning books for authors who choose to retain the rights to their intellectual property, Brown Books publishes more than one hundred titles a year and has won numerous prestigious awards, including the Writer's Digest Grand Prize, Mom's Choice Award, Foreword Book of the Year, Gold Ink Award, Axiom Business Book Award and many more. Brown Books authors have appeared on programs and channels such as the "Today" show, Fox News, "Face the Nation," CNN and BBC News. They have been featured in publications such as USA Today, Publishers Weekly, and The New York Times. In addition, BBPG authors have been guests on NPR programming, including "The Diane Rehm Show," "Morning Edition," "The Takeaway" and "Tell Me More." To learn more, visit http://www.BrownBooks.com.
About The Agency at Brown Books (ABB)
The Agency at Brown Books is a full-service public relations, marketing and branding firm within a publishing house. As a subsidiary of Brown Books Publishing Group, The Agency is backed by 20 years of excellence and experience, and the one-of-a-kind, integrated platform is available to Brown Books' authors as well as to non-affiliated authors, established writers, entrepreneurs, CEOs and anyone seeking smarter strategies for building their business. For more information, visit http://www.TheAgencyAtBB.com.