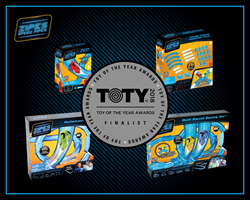 Known as the "Oscars" of the toy industry, the TOTY Awards program supports children in need by serving as a critical fundraiser for the Toy Industry Foundation.
Northfield, Illinois (PRWEB) December 01, 2017
The toy, game, and license finalists for the prestigious 2018 Toy of the Year (TOTY) Awards were unveiled on November 3rd, by The Toy Association. Known as the "Oscars" of the toy industry, the TOTY Awards program supports children in need by serving as a critical fundraiser for the Toy Industry Foundation.
"Each and every one of the TOTY finalists have brought joy, laughter, and learning to children around the world. From classic board games to innovative tech toys, these playthings represent the 'BEST OF THE BEST' in the world of toys and games … So, you might even find some great holiday gift ideas among this evening's finalists!" said Steve Pasierb, The Toy Association's president & CEO, at the press event
Zipes™ Speed Pipes was a finalist in THE SPECIALTY TOY OF THE YEAR category. Between now and January 5th, consumers can visit Toys.Awards.com to vote for their favorite picks in each of the 17 categories.
"This is such an honor for Neat-Oh! We are finalists in the "Specialty Toy of the Year Category" - our true dedication to Specialty Toys is being recognized! We are up against some of the biggest names in the toy industry - we have some tough competition, but still, we're going to give it all we've got" says Dee Farrell, Senior Vice President at Neat-Oh!
About Zipes™ Speed Pipes - finalist in the "Specialty Toy of the Year" category
Zipes™ Speed Pipes is the first and only high-speed toy to run inside pipes.
With a little creativity, kids put together Zipes™ Speed Pipes that can twist, loop and seemingly defy gravity. Kids can make crazy builds and then speed Zipes™ Racers crazy fast through the pipes. Zipes™ Pipe builds are dynamic and can be tangled 360 degrees even while the vehicles are zipping through the pipes. This unique new dimension of play expands kids' way of thinking and makes things crazy fun. Zipes™ Racers are illuminated and the sets contain a cosmic strobe ball that creates an awesome light show when room is dark.
Unlike any other RC vehicle, Zipes™ Racers have special technology and a 50.000 RPM motor that allow them to navigate inside the pipes at high-speed, defying the rules of gravity.
In the market for only half a year, Zipes™ Speed Pipes has already won important awards such as 2017 Best Toys For Kids from ASTRA and the Oppenheim Toy Portfolio Platinum Seal Award 2017, given to the most innovative, engaging new products of the year.
WATCH THIS FUN INTERVIEW with Zipes™ Speed Pipes, and vote for 2018 TOTY Finalist. https://youtu.be/B649NNxu9eI
This year's finalists were selected from over 600 nominees submitted by more than 150 companies of all sizes. Twenty judges, including toy and play experts, retailers, academics, and journalists, reviewed and ranked the products in specific categories relevant to their areas of expertise. The judges then participated in a live discussion to determine the finalists in each category. They considered each product's creativity, design, play value, and marketing.
One winner in each category, as well as the coveted "Toy of the Year" award winner and the "People's Choice" winner (based solely on consumer votes), will be announced at a dazzling TOTY Awards gala to be held on Friday, February 16, 2018 at the Ziegfeld Theatre in New York City. The celebration will help kick-off the 115th North American International Toy Fair, and will include the induction of toy industry trailblazers into the esteemed Toy Industry Hall of Fame.
About Neat-Oh! International, LLC
Neat-Oh! is a company born from creativity, innovation and true care for children and parents. Neat-Oh! has been building enduring brands by making playtime even more special for over 12 years, offering a large range of products such as Dinosaur Toys, Every Day Princess™ dolls, Magnutto® Junior Activity Sets, ZipBin® Toy Storage – even Barbie™ and Hot Wheels™ licensed products as well. In 2017 Neat-Oh! introduced two new brands to their portfolio – Linkt® Craft Kits and Zipes™ Speed Pipes, now winners of the 2017 Best Toys for Kids Award and Oppenheim Toy Portfolio Awards.
With over 100 awards and endorsements from parents across the globe, Neat-Oh! products are recognized for superior quality, workmanship and materials. Their 100% satisfaction guarantee and world-class safety testing programs make it easy for discerning parents who want only the best and safest products in their home.