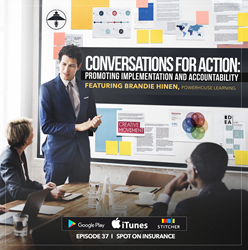 GROESBECK, Texas (PRWEB) November 30, 2017
Spot On Insurance ("SOI") hosts a free, weekly podcast series developed specifically for insurance industry professionals, that showcases topics that are both relevant and timely. In December, SOI will publish podcasts focusing on promoting effective communication and regulatory compliance.
On Tuesday, December 5, 2017, Brandie Hinen, CEO of Powerhouse Learning, discusses effective communication for consensus building in "Conversations for Action: Promoting Implementation and Accountability."
December 12, Dan Oberdorfer and Nicole Faulkner, from Stinson Leonard Street, explore the ramifications of marijuana legalization in "Marijuana in the Workplace: An HR Perspective."
Tuesday, December 19, finds Lesli Leakey of WebCE.com promoting "Continuing Education Compliance."
Then on December 26, David Siekman from Agency Performance shares his "Inbound Sales Call Strategies for Personal Lines."
Podcasts release each Tuesday on YouTube, iTunes, Google Play and Stitcher Radio.
About Spot On Insurance:
Spot On Insurance, which debuted in August 2017, is a weekly podcast series. It brings together compliance experts, regulators and industry leaders to discuss the latest trends in insurance and financial services. Spot on Insurance is owned by Arleen & Ted, Taveras, co-founders of Insurance Licensing Services of America, Inc., which offers full service insurance licensing and compliance services to industry professionals, nationwide. Individuals interested in appearing on a podcast should contact Spot On Insurance. For more information, visit spotoninsurance.com.