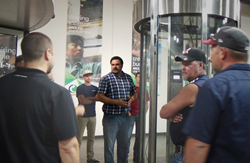 Technical training has been a proven win/win/win for us, the partner, and the end user. Our goal is to deliver a wide array of low-cost options for technical training, so we can empower our partners to delight their customers. Zac Ellett, Technical Training Resources Manager
Lillington, NC (PRWEB) November 29, 2017
Boon Edam Inc., a global leader in security entrances and architectural revolving doors, today announced an expanded product training schedule for 2018 that includes all scheduled Factory trainings, Roadshow trainings throughout the USA and Canada, and webinars. Technical training events are free of charge to Boon Edam partners and integrators and typically include two or three days of intensive product instruction and hands-on exercises that address the most common installation and maintenance issues in the field.
The full 2018 schedule can be seen here: http://content.boonedam.us/2018-training-schedule.
Product "Roadshow" Training Comes to Customers
Roadshow Trainings bring in-depth product education direct to the partner's region. Each session focuses on the installation, service, maintenance and overall care of manual and automatic revolving doors, including the most-in demand product, the Tourlock security revolving door.
What's unique about the Roadshow training is that a specially-engineered, full-size revolving door, with both automatic and manual parts, is shipped to each training location, often a hotel. Here, participants work together to assemble the door and experience multiple hands-on training sessions.
Due to growing demand after the Roadshow's 2016 inaugural year, Boon Edam has expanded the schedule to 10 locations in 2018. This year, Atlanta, Baltimore, Denver, Minneapolis, Montreal, Boston, Chicago, and Houston will all host a Roadshow training. There will also be two specialized training opportunities in the company's technical training centers located in San Jose and New York. Each two-day event includes one session of Revolving Door Training (TQM, Crystal TQ, Boon Assist TQ, TQA, Tourlock security revolving door), followed by a day of training on the most popular optical turnstiles, the Lifeline Series.
Four Intensive Trainings at the Boon Edam Factory
Intensive, one- to two-day Factory trainings are held four times a year (three in the spring and one in the fall) at Boon Edam Inc.'s headquarters in Lillington, NC. Participants will have both classroom and hands-on access to the widest range of Boon Edam products. In addition, the spring and fall factory trainings will follow an in-house, AAADM A156.27 certification course on public use revolving doors.
Zac Ellett, Technical Training Resources Manager, has been the driving force behind the Training Roadshows and the overall expansion of the company's training programs. As the sessions are free of charge, the only costs attendees incur are travel and hotel, except the AAADM certification (which requires a fee). Boon Edam's Technical Training Program mission is to enable its valued partners to build positive, long-term relationships with end user customers and operate more independently through the transfer of technical knowledge.
"Technical training has been a proven win/win/win for us, the partner, and the end user customer. Our goal is to deliver a wide array of low-cost options for technical training, so we can empower our partners to delight their customers," said Ellett. "The response so far to our Roadshow training has been overwhelmingly positive, and we are committed to supporting our partners in new Roadshow locations in 2018."
For Further Information, Please Contact:
Tracie Thomas
Vice President of Marketing
T 910 814 8239
E tracie.thomas(at)boonedam(dot)com
For Media Queries, Please Contact:
Bruce Doneff
Public Relations
T 843 476 3022
E doneff(at)verizon(dot)net
About Royal Boon Edam
With work environments becoming increasingly global and dynamic, the smart, safe entry has become the center of activity in and around many buildings. Royal Boon Edam is a global market leader in reliable entry solutions. Headquartered in the Netherlands, with 140 years of experience in engineering quality, we have gained extensive expertise in managing the transit of people through office buildings, airports, healthcare facilities, hotels and many other types of buildings. We are focused on providing an optimal, sustainable experience for our clients and their clients. By working together with you, our client, we help determine the exact requirements for the entry point in and around your building. Follow Boon Edam Inc. on Facebook, Twitter, LinkedIn and our blog and read the latest news at http://www.boonedam.us/news.