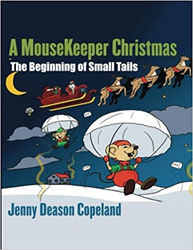 Los Angeles, CA (PRWEB) November 29, 2017
In preparation for the holiday season, award-winning author and publisher Jenny Deason Copeland released her latest children's book, "A Mousekeeper Christmas: The Beginning of Small Tails." The book, which deals with an intuitive young girl's journey in helping Santa make enough toys for Christmas, was met with rave reviews from parents and readers across the country immediately after its release:
"What a wonderfully clever Christmas story with great pop ups! I especially liked the pop ups which furthered the creativity of the story and stretched the reader's imagination!" Julie Duesing- Denver, CO
"Loved this story! This offering has all the magic and imagination of a classic Christmas story. I found myself easily getting attached to the characters, and the humor is soft and playful." Edward Barrett - Los Angeles, CA
"I cannot wait to read this delightful book to my 6 year old grandson over the holidays. The story is unique and entertaining and the artwork both beautiful and charming. Thank you for this gift for all ages." -Cindy Reynolds - Westfield, MA
The "Best of Los Angeles Award" community was formed three years ago and consists of over 3,700 professional members living and working in Southern California. It celebrates the best people, places and things in Los Angeles with a slogan "No Ads. No B.S. Only the Best."
"The mission of the community is to celebrate the best of Los Angeles, and allow its community members to connect with other members who share the highest standards of quality and integrity," said DeRose.
"I am honored to receive this award from the Best of Los Angeles" says Copeland. "I worked hard to write a fun holiday book which teaches children that their imagination and intuition are important."
To learn more about Jenny Copeland and her work, visit her website.