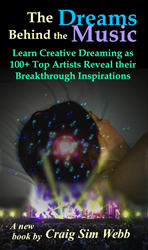 "Any artist who ignores their dreams is ignoring half of their creative potential." –Sting
MONTREAL (PRWEB) November 30, 2017
In addition to hundreds of dream-inspired hits that lifted scores of music icons to stardom, this groundbreaking work also unveils spontaneous, monumental collaborations sparked by dreams, powerful warning dreams where the lives of famous artists and others were at stake, 20+ intriguing cases where the deceased appeared in dreams of living musicians to instruct them or offer important creative and career guidance, the 2 dreams that led to the top-grossing film of all time, stars who experience the gift of 'seeing' music and 'hearing' images, dream visions that called artists to their career path, as well as ways shamans from many cultures worldwide call in music from dreamland and share it for healing, teaching, protection, and powerful rituals.
The book also explains how anyone can recall more dreams and tap them for creative inspiration, as well as use them to improve mental, emotional and even physical skills such as live performance or musical instrument mastery as did virtuoso guitarist Stevie Ray Vaughan, 25-time Grammy-winning pianist Vladimir Horowitz, and various other top artists. The book also details techniques to transform nightmares into the gifts they are meant to be, as well as proven methods to invoke lucid dreams in which amazing adventures and insights are plentiful, since Webb was involved in the pioneering research at Stanford University that was instrumental in bringing lucid dreaming to public attention over the last few decades.
"The Dreams Behind the Music: Learn Creative Dreaming As 100+ Top Artists Reveal Their Breakthrough Inspirations" combines over 3,000 hours of writing, interviews, and research with the author's 25+ years of experience studying and teaching about dreams, and working with many thousands of dreamers around the world. The result is an entertaining, unique, and insight-filled collection of mostly unknown yet meticulously-documented accounts of over 200 artists, showing how dreams inspired some of their biggest hit songs, as well as offered them crucial career and life guidance that steered them towards tremendous success.
This avant-garde work reveals how dreams have played a monumental role in shaping the music we know, if not the entire fabric of our culture. It also highlights numerous universal principles about creativity and consciousness that can benefit anyone in order to streamline the journey toward the forthcoming future where nightly dreams will play an increasingly important role to help us all live significantly more fulfilling daily lives.
To learn more, visit: http://DreamsBehindTheMusic.com
###
About: Craig Webb is a dream analyst/author/researcher, as well as a widely-traveled speaker, inventor, and dream-inspired musical artist. A McGill University graduate with pioneering lucid dream research at Stanford University and Montreal's Sacre-Coeur Hospital, Webb has had the honor to consult for Fortune 500 corporations, major motion pictures, world-class athletes, top celebrities, and make well over 1,000 media appearances. He has also designed personal development, educational, and optimal health devices distributed worldwide, helped found/produce the acclaimed radio show Making Contact (that has aired weekly on 150-250 international stations for over two decades), and has volunteered for many humanitarian and environmental causes, including benefit concert performances and fundraising events.