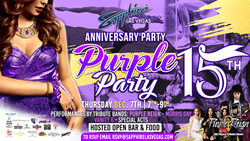 We love our employees, affiliates, vendors and the people of Las Vegas. We couldn't have made it this far without them.
LAS VEGAS (PRWEB) November 29, 2017
"We've been blessed to have had such a rewarding year with over 400,000 visitors to Sapphire this past year at the club and Sapphire also had a successful pool season at the Sapphire Pool & Day Club, voted "Best Day Club in Las Vegas" for the past four years in a row. Sapphire was also voted "Best Gentlemen's Club in Las Vegas" for the past six years in a row by Las Vegas Review Journal in their annual reader poll. We love our employees, affiliates, vendors and the people of Las Vegas. We couldn't have made it this far without them," says Peter Feinstein, Managing Partner of Sapphire. "Thanks to everyone for making Sapphire the premiere gentlemen's club in Las Vegas."
Head over to Sapphire for their 15th Annual Anniversary Party. It is going to be an incredible, once-in-a-lifetime experience. Buffet, cocktails, beautiful waitresses and hundreds of topless entertainers. Guests are encouraged to dress in purple attire for this Anniversary Party bash.
The club will have all sorts of "eye candy" to entertain guests. Cirque-du-Soleil-style gymnasts and aerial acts will perform in the Showroom and live costumed jugglers and body painted women provided by Skin City will parade through the crowd the entire evening. There will be pole exhibitions, contortionists, chair balancers and beautiful burlesque performers to name just a few. There will be something bizarre, beautiful and stunning to watch throughout the club all night long.
Tribute bands Purple Reign, Vanity and Morris Day will perform alongside Cirque-du-Soleil-style gymnasts and aerial acts.
The award-winning Prince Tribute Show, Purple Reign, featuring Jason Tenner as Prince, will relive the era that made "The Artist" an international superstar. Purple Reign captures the imagination and seamlessly re-creates the blistering performances and raw energy of Prince in his prime. Featuring a tribute to Morris Day and The Time, this special performance is not to be missed.
"Sapphire is pulling out all the stops for the Las Vegas club's end-of-year anniversary celebration. Don't plan anything the next day, except for sleep!" adds Shai Cohen, Sapphire's Marketing Director.
There is a sponsored open bar for the event from 7pm to 9pm so belly up to the bar for great featured drinks. Grand Leyenda Tequila, Moet Hennessy USA, Tieton Cider Works, JEVO, Grey Goose, Campari, Jack Daniels, Fireball, Martini Rossi, Patron, Empress, Brinley Gold Shipwreck and Nevada Beverage are the clubs major liquor partners.
Guests will also be treated to hot food provided by the club's very own Sapphire Grill as well as Fat Bar, Zenshin and Sysco and PinkBox Doughnuts
Also there for guests entertainment will be over 400 of the most beautiful (and friendliest) women in the world. Retreat to one of 10 private Skyboxes overlooking the main floor afterward for a more "intimate" party with a favorite one because really, it's the dancers that'll put that smile on your face in the first place.
Sapphire, located at 3025 Sammy Davis Junior Drive in Las Vegas, is the World's Largest Gentlemen's Club with 70,000 square feet of topless entertainment. Get to the club early or reserve a table today. Open 24/7 to patrons 21 and over, Sapphire serves the finest variety of cocktails, wines, champagne and cigars.
Party invitations tend to snowball in the weeks leading up to Christmas but this is sure to be an event not to be missed. So grab the guys and girls and head to the Sapphire 15th Anniversary Celebration and join Sapphire for a champagne toast and an evening one won't soon forget! For table reservations call 702.869.0003. And for special offers and updates follow Sapphire LV on twitter @sapphirelv
MEDIA INVITED