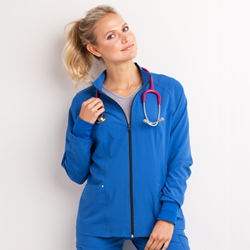 The fabric is stretchy, durable, wicks away moisture and is wearable both day and night.
Fort Lauderdale, FL (PRWEB) November 30, 2017
Multi-channel retailer of uniforms for healthcare and hospitality industries, Uniform Advantage re-launches Easy Stretch by Butter-Soft™ Scrubs, with an extended selection of styles, colors, prints, and sizes.
Stretch fabrication and athleisure wear styles have become a staple in the medical apparel industry. UA's Easy Stretch collection intends to bring comfort and ease to the long and tiring shifts of healthcare professionals on the go. The new array of Easy Stretch tops come in nine diverse styles with a scrub jacket option. The stretch tops are now also available in seven prints. Easy Stretch scrub pants come in three styles - Sport Yoga, Drawstring, and Pull On - all with petite, regular, and tall options. The collection comes in ten colors, with the solid fabrication 95/5 poly spandex and print fabrication 94/6 poly spandex.
The Easy Stretch fabric is silky to the touch with the ease of spandex stretch. The styling is modern, delicately accented with silver rivets and perforated fabric details - flattering on any body type. The collection is made with advanced 2-way stretch fabric that is lightweight and performance-driven coupled with contemporary designs.
In 2016, the initial launch of the Easy Stretch collection saw popularity with customers and sold out quickly. Commenting on the re-launch of Easy Stretch by Butter-Soft™ Scrubs, VP of Merchandising and Design, Todd Lewis says, "We planned to expand the collection after our initial success. To date, it is our most advanced technical fabrication with great performance features. Easy Stretch has unmatched comfort, quality and price in the market. The fabric is stretchy, durable, wicks away moisture and is wearable both day and night. Not only are the performance features new and advanced, so are the styles."
Easy Stretch by Butter-Soft™ Scrubs are sold exclusively by Uniform Advantage. The collection is now available at uniformadvantage.com and in all of the 29 Uniform Advantage retail stores across the United States.
About Uniform Advantage
Uniform Advantage has represented style, quality and, above all, customer satisfaction for more than 30 years. As the first division of UA Brands, the chain was launched with a single South Florida store in 1985. Today, the company operates 29 retail locations in key markets across the U.S.; e-commerce and print catalog divisions; plus, designs and manufactures its own proprietary healthcare apparel lines. The company's corporate office is based in Fort Lauderdale, Florida with a distribution center near Atlanta, Georgia. Learn more at http://www.UniformAdvantage.com or by calling 800-283-8708.