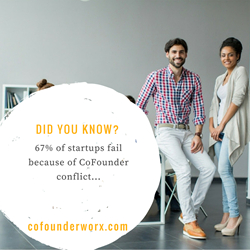 According to Yuri van Geest, Founder of Singularity University Nl, "I have used the survey and analysis offered and found it very insightful and helpful. It offers practical and effective guidelines on how to navigate in the founding team and with oneself. Overall a highly recommended solution"
NEW YORK (PRWEB) November 30, 2017
Recent work with a global accelerator showed that 67% of teams fail due to cofounder conflict, often within three years of their start-up.
Were such leadership failures inevitable in an entrepreneurial society, or could they be prevented?
Two years ago, Julia McNamara, of CoFounderworx set out to answer that question. The rigor of her research with 4,500 cofounders was supplemented by her prestigious Executive Panel - comprised of entrepreneurs, venture capitalists and academics from such prestigious institutions such as Columbia Business School, Insight Venture Partners, Comcast Ventures and ATT. Professors Dr. Paul Johnson and Dr. Yaron Prywes were of particular assistance.
CoFounderworx's research led to the development of the only science-based leadership assessment designed for cofounder compatibility, success and failure. Using their outcomes, companies and investors can put strategies in place before conflict and inefficiency arise.
"No matter how much people may trust each other or how good their intentions are, when money and values come into play, cofounders often discover things about each other that they didn't know or suspect before their partnership," McNamara said. "And that's where our research and assessments come into play."
CoFounderworx was established to measure levels of compatibility before two or three people enter into a risky but potentially rewarding partnership.
For example, her company's research has shown a pronounced difference in values between solo founders and cofounders. Solo founders questioned by the company said they valued "personal grit" – tenacity and resilience – highly, while co-founders emphasized an ability to disagree constructively as important attributes.
CoFounderworx has set out on a mission to help cofounders better understand each other before they move forward.
"Does everything have to end in a lawsuit?" McNamara said. "Absolutely not. That's why we're here.
The assessment is being offered on an exclusive basis to qualified CoFounders, for more information go to http://www.Cofounderworx.com