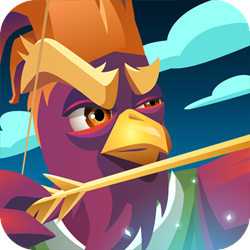 Austin, Texas (PRWEB) November 30, 2017
Spacetime Studios, a Texas-based independent mobile game developer and publisher, announced Pocket Legends Adventures is globally available from the App Store and Google Play.
Pocket Legends Adventures features innovative real-time combat, unique skill-based advancement, endless character customization, and extensive single player campaigns.
"Pocket Legends Adventures lets players experience deep RPG mechanics without the hard-core grind." said Gary Gattis, CEO. "This casual take on old school MMOs is perfectly suited for today's pick-up-and-play lifestyle."
Social gameplay is at the forefront of Pocket Legends Adventures, with the game also serving as a 24/7 chat room populated by some of the most whimsical 3D avatars on Mobile. Players hang out while they collaborate or compete with each other on the leaderboards, play in pick-up-groups or parties, and ultimately cooperate in explosive end-game raid content.
Combat is characterized by a unique real-time system where position and timing are critical for both avoiding enemy attacks and inflicting bonus damage. Combined with PLA's open character advancement system, this fresh approach to combat rewards skillful play and strategic thinking.
Features:

Adventure in total freedom with an open character advancement system.
Collect and level up a wide variety of ranged, melee, and healing Pets.
Master exotic weapons including Bows, Staffs, Swords, Tomes, Wands, Nunchuks, and Talons.
Learn arcane magic and cast powerful spells to devastate enemies.
Explore the single-player campaign full of tricks, traps, and a host of enemies and bosses.
Add friends to compete on the leaderboards in a wide variety of multiplayer zones.
The game can be downloaded on the App Store (https://itunes.apple.com/app/pocket-legends-adventures/id1208277394?mt=8) or Google Play (https://play.google.com/store/apps/details?id=sts.pl2).
More information can be found about the game at: http://www.pocketlegendsadventures.com
About Spacetime Studios:
Spacetime Studios is an independent game developer and publisher located in Austin, Texas. The company was founded by videogame veterans Cinco Barnes, Gary Gattis, Jake Rodgers and Anthony L. Sommers. In 2010, Spacetime released the world's first 3D real-time mobile MMO, Pocket Legends. Since then the company has released an additional 7 games and continues to expand its content and technology to lead the mobile multiplayer market.
Spacetime Studios, the Spacetime Studios logo, Pocket Legends Adventures, and all associated artwork and designs are copyrights or registered trademarks of Spacetime Studios, Inc. Apple and iOS are trademarks of Apple, Inc. Android is a trademark of Google, Inc.