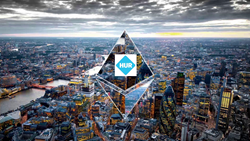 The fundamental difference between traditional accredited investors in companies, versus Tokensale participants is that the latter not only commit funds, but also become an active part of the company's network effects - creating value for the company in perpetuity
SEATTLE (PRWEB) November 30, 2017
Hurify Inc., incorporated in Halifax, Canada has launched Hurify Blockchain Platform and ICO to create a first of its kind IoT Services Marketplace over Ethereum Blockchain. Hurify Blockchain Platform is an IoT Services Marketplace that offers a Smart Contract driven IoT Service Monetization model that is disrupting the traditional IoT services model prevalent today. A market study by MarketandMarket puts the IOT professional services market at a size of USD 75 Billion in 2017 that is slated to grow to USD 160 Billion by 2021 at 22.6 CAGR dominated by the Global IT Services companies.
Mouli Srini, Cofounder, and CEO of Hurify says "The fundamental difference between traditional accredited investors in companies, versus ICO/Tokensale participants is that the latter not only commit funds but also become an active part of the company's network effects - creating value for the company in perpetuity. We also believe Hurify blockchain platform will disrupt existing service models blocking the real scale of IoT." But beyond that, the team is hoping that it can kickstart a new kind of approach for working with their developers who also build apps and services on top of its Paasmer platform, which already has a developer community across the globe. The company already has good strategic partners like Stewart Mckelvey: Legal advisory firm; TokenLot: TokenSale partner; DroneThinkDo: Drone Consortium, H3Buildings: Smart City Developer.
Minimum Viable Product of the platform is already under Beta testing on Ethereum Test net. The company plans to open the platform to developers and SMEs across the globe by invitation from January next year. The team hopes to have a development community on the platform that can be rewarded appropriately for building unique applications in IOT that are not made today due to cost and resource constraints. To do that, the Tokensale will see the company create HUR Utility Tokens, Ethereum Token like bitcoin currency, which will serve their ecosystem. The company plans to create about 260 Million HUR Tokens for its ICO. 3% of their Tokens will be available as pre-sale to early adopters of their platform. 77% of HUR Tokens will be available for the Tokensale planned early next year with another 20% of the Tokens will be used for platform promotions. The company has started accepting applications for Pre-sale Token purchase from Developers and SME.
Mouli Srini adds "Blockchain is like the Internet in the 90s. At that time, there was a lot of hype, excitement, money but also many great internet companies of today were born. The blockchain is going to disrupt every basic operational model like the Internet today. We are glad that we are getting into this technology early as we aspire to be a great Blockchain IOT company that creates true value for our community. Our vision is to enable a Blockchain economy for the future smart cities allowing all services accessible via our HUR Tokens."
About Hurify Inc.: Hurify Inc. is a corporation incorporated in 2017 in Halifax, Canada with operations in Seattle, United States and Bangalore, India. Ex-Intel veterans Mouli Srini & Kavitha Gopalan, who also Cofounded Mobodexter Inc., Cofounded Hurify earlier this year. Hurify is a startup in Blockchain technology space that is has been working on Hurify Platform that is disrupting the USD 70 Billion IOT Services Marketplace. The company has a Beta version of the platform and is planning to announce General Availability early 2018 for IOT Developers and SMEs.