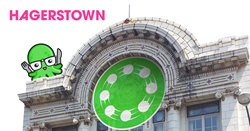 BETHESDA, Md. (PRWEB) December 01, 2017
Dining out in Hagerstown just became more fun and less expensive. Spotluck, the revolutionary discount dining app, debuts in Hagerstown on November 30th, offering savings from 15%-35% off your bill at over a dozen local restaurants. Hagerstown marks the latest East Coast expansion for Spotluck and a return to the area for Spotluck CEO, Cherian Thomas and CFO, Brad Sayler. Thomas spent five years helping to run his family-owned manufacturing facilities in Washington County before leaping into the mobile-technology industry in 2014 with Sayler, a Frederick native and current resident.
Spotluck only works with locally-owned restaurants. Its success in nearby Frederick made the expansion to Hagerstown a logical choice. Spotluck has thousands of hungry users in the surrounding areas. The expansion to Hagerstown has long been part of Thomas's plans. "Hagerstown and Washington County were a vital part of my professional journey," says Thomas who launched Spotluck in 2014. "Having worked in Washington County for several years in the past, I noticed the need for local restaurants to compete with giant chains in the area." Spotluck aims to give local operators more visibility and drive walk-in business when it's needed most.
In Hagerstown, participating locations include The Broad Axe, Foster's On The Point, Los Amigos Restaurant, American Ale House, Maloo's Pub & Grill, Black Eyed Susan, Cacique, Brother's Pizza, Colonial Bar, Warehouse Tap Room, Sitar of India, Thai Zap, Benny's Pub & Grill and The Gourmet Goat.
Spotluck first launched in Rockville, Maryland. It now partners with more than 1,300 local restaurants in and around Maryland, Washington, D.C., Virginia, Pennsylvania, Delaware, New Jersey and New York.
About Spotluck
Spotluck brings dynamic pricing to the restaurant industry with a gamified spin. Spotluck pioneered real-time discounts that fluctuate based on day, time, weather and other factors that impact restaurant occupancy. Their software yields higher discounts on rainy Mondays and lower discounts on sunny weekends. Spotluck's gamified spin on "deciding where to eat" makes the app fun for users, while its proprietary software maximizes occupancy (and profits) for local restaurants through smart discounts that change.
Spotluck first launched in Rockville, Maryland in June 2014 and is currently ranked as the number one "dining" app on the iTunes App Store. The app is free for consumers and available on both iOS and Android. More information can be found on http://www.spotluck.com.