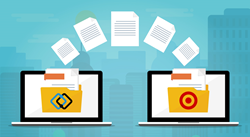 Now is the time for Target suppliers to make a move to a better EDI VAN.
WESTLAKE, Ohio (PRWEB) December 11, 2017
Retail giant, Target has switched Electronic Data Interchange (EDI) Value-Added Networks (VANs). This recent move provides Target with increased EDI VAN functionality and a more reliable operations system.
Target migrated their service to extend the functionality of their EDI VAN trading community and create tighter relationships that will ultimately benefit Target suppliers. Target's new EDI VAN developed new features specific to Target's needs that are not offered by other value-added networks.
Now is the time for Target suppliers to make a move to a better EDI VAN.
"Not only do we provide the enhanced functionality that Target suppliers are looking for, but our product is extremely affordable with customer service that's second to none," said Elizabeth Fitzgerald. "We deliver one of the industry's most secure and reliable VANs along with the industry's most revolutionary pricing structure."
The retailer operates over 1,800 stores and 40 warehouses throughout the U.S. and is already operating on their new EDI VAN.
About BOLD VAN
BOLD VAN is an EDI service provider boasting transparent pricing on a robust Value-added Network. We offer a comprehensive suite of EDI solutions which includes a fully hosted EDI cloud solution.
With over 25 years in the EDI field, BOLD VAN offers Trading Partner based pricing and is the first Value-added Network to do so. We only charge by the number of Trading Partners and you can use our VAN to transfer unlimited data. You'll never have to tally up data when figuring out your EDI bills again. This change alone is cutting costs for companies, up to 80% while providing budget predictability. We are proud to be EDI pioneers.
To learn more about how BOLD VAN provides a competitive advantage to Target suppliers and saves them money contact Elizabeth Fitzgerald today.