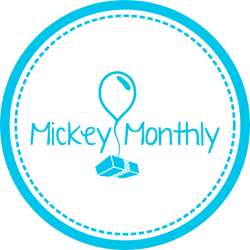 CLERMONT, Fla. (PRWEB) November 30, 2017
MickeyMonthly.com members already receive spectacular benefits such as huge travel discounts and free resort delivery, but now Mickey Monthly subscribers have even more to be excited for. That's because Mickey Monthly has just announced that going forward all Disney subscription box members will have two new amazing benefits.
Mickey Monthly members will now have access to free personal shopping services and a free premium membership to Streaming the Magic to go along with the rest of their sensational subscription benefits.
The free personal shopping services that Mickey Monthly members now receive means they have access to every item on Disney World property. That's not an exaggeration. Mickey Monthly subscribers can pick any item from Disney Parks and Resorts, and dedicated team at Mickey Monthly will actually go to Disney World and pick it up for you. You only have to pay the cost of the item with tax, shipping and PayPal fees—no costs for saving you time and travel. Those who are not subscribed to Mickey Monthly still pay the standard 20-percent shopping fee.
But that's not all. Mickey Monthly members can also now enjoy Streaming the Magic's VIP service, which brings live video from your favorite Disney Parks and Resorts right to you. Their service is loved by diehard Disney fans because it gives them incredible and exclusive video streams that are not available to anyone else. This benefit is only available to Theme Park Edition Mickey Monthly subscription box members.
If you're already a Mickey Monthly member and have any questions about your benefits, you can sign into your Mickey Monthly account and click on the "Benefits" button at the top of the page.
About: Mickey Monthly offers monthly Disney mystery boxes for diehard Disney fans who become members. They do the traveling to and shopping at Disney Parks and Resorts so that you don't have to every time you want officially licensed Disney items. Mickey Monthly Disney subscription boxes can include Disney pins, Disney snacks, or other licensed Disney Parks and Resorts items. Mickey Monthly subscription boxes are delivered right to your door each month and there are a variety of options for all kinds of Disney fans.