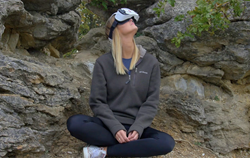 We're using emotion as a media input.
COLUMBIA, Mo. (PRWEB) November 30, 2017
A new virtual reality experience allows you to harness the power of your brain's positivity to gently float up the side of a beautiful waterfall. StoryUP XR launched "Positivity Moves the World" for GearVR. It's the world's first BCI product for mobile VR. The portable experience is powered by the Muse meditation headband which is a brain-computer interface (BCI). Download Positivity here: https://www.oculus.com/experiences/gear-vr/1407106169325589/
"We're using emotion as a media input," said Sarah Hill, Chief Storyteller of StoryUP XR, a Missouri company creating data-driven immersive narratives powered by the user's brainwaves and physiology. "So many of our interactions with media have become negative. 'Positivity' is a reminder our thoughts have power and they control not only the virtual world but the real world as well."
"When a person is feeling more positive and optimistic, the left frontal region of the brain becomes more active and can be measured by increases in a specific kind of gamma brainwaves," said Dr. Jeff Tarrant, StoryUP's VR Psychologist and neurofeedback specialist. "When the BCI detects a certain level of that gamma activity, the user gently glides up the side of a lush waterfall." The experience made in Unity with a 360 video player and a patent-pending methodology is powered by a Muse mediation headband choosemuse.com, a Samsung Galaxy S6, S7 or S8 phone, and a GearVR headset.
StoryUP started in 2014 as a way to help aging Veterans see their memorials. The company sells its VR "Story Spa" to corporate clients who work in areas of acute, situational, and workplace stress. StoryUP's kits are used in enterprise from healthcare to sailors aboard the USS Nimitz in the Pacific Ocean. In addition to positivity, the stories and affirmations about empathy, mindfulness, and motivation span five continents. StoryUP's products support Honor Everywhere, a free VR program for terminally ill and aging Veterans who are no longer able to physically travel to see their memorials in Washington, DC.
At the end of the experience at the base of the waterfall, the user is presented with a positive story. "Positivity" is a collaboration with StoryUP XR in Missouri, the Neuromeditation Institute in Oregon, Everywoah, and Immersion.reallife. For more information, please visit http://www.story-up.com/ or email hello(at)story-up.com.