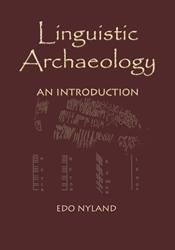 SIDNEY, B.C. (PRWEB) December 04, 2017
The late Edo Nyland's book, "Linguistic Archaeology," goes against traditional linguistic theories to explore new patterns of thought in the field.
In his book, Nyland uncovered a coding method that can be used across multiple languages, revealing the hidden meanings of words. This method strongly suggests that many of our ancient languages stem from the same origin.
Nyland's discovery gives linguists access to new patterns of thought and allows academics and students to expand their educational horizons.
An Amazon reviewer said, "This book provides an interesting and well thought out theory on how languages evolved."
Nyland asks in his book why someone with forestry, botany, and land administration experience would work on amateur linguistics, to which he replied, "here was obviously a wide-open and interesting field of study which, for centuries, had attracted many non-academic outsiders who made great contributions to the science they chose to work on."
In "Linguistic Archaeology," everyone from linguists to laymen can find knowledge and enjoyment in uncovering the secrets behind the words we speak.
"Linguistic Archaeology"
By: Edo Nyland
ISBN: 1-55212-668-4
Available at the Trafford Publishing Online Bookstore and Amazon
About the author
Edo Nyland wrote his memoir (printed, 323 pages, titled "Life is Full of Surprises") covering 80 years of his life. He retired in 1982 from his job as chief forester of the Yukon Territory. He passed away in August of 2017 and is survived by his wife, family, colleagues, and friends.