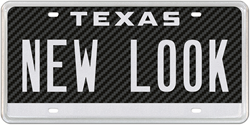 The Carbon Fiber look is very popular
Austin, TX (PRWEB) November 30, 2017
Just when you think you've seen it all on a Texas license plate, now MyPlates.com, the State's specialty plate vendor has released a new look Carbon Fiber pattern.
This new plate adds to the 100+ designs My Plates offers Texas drivers, adding yet one more choice in the fun decision-making process for customers.
For those who are wondering whether the plate is made from actual Carbon Fiber graphite materials, we advise that it is not. Instead, a computer-generated digital image of the Carbon Fiber pattern along with the final plate message is transferred onto a roll of adhesive-backed reflective vinyl sheeting that's affixed to a like-size strip of aluminum. The aluminum is then sliced into the plate-size rectangles that are shipped out to local county tax offices for collection.
Today in Texas, all license plates are digitally printed and completely flat, except for a raised edge that serves as a frame. The numbers and letters are no longer stamped. All Texas license plates are manufactured by offenders at the Wynne Unit in Huntsville, who produce about 65,000 plates a day.
Like all proposed designs, the new look Carbon Fiber plate had to go before the TxDMV Board for consideration and then had to achieve a minimum of 200 pre-orders before it could move to production and final release.
Having achieved more than 300 pre-orders, the Carbon Fiber plate has now moved to production and is available for all Texans to purchase. "The Carbon Fiber look is very popular with many automotive customization products, as well as many other products, including laptops and phone cases, so we thought why not the license plate" said Steve Farrar, President of My Plates.
Texans wishing to order the new Carbon Fiber look or any one of 100 other choices with or without personalization, can visit http://www.MyPlates.com or call the My Plates customer service center at 888-769-7528, M-F 8a-5p.
____________________________________________________________
My Plates designs and markets new specialty license plates as a vendor for the Texas Department of Motor Vehicles. Texans have bought more than 340,000 My Plates since November 2009, putting more than $58M in the state general revenue fund. My Plates' goal is to create a long-term, mutually beneficial relationship designed to maximize revenues for the state through the sale of My Plates specialty plates. http://www.myplates.com.
The Texas Department of Motor Vehicles (TxDMV) serves protects and advances the citizens and industries in the state with quality motor vehicle related services. For every $1 it spends, the TxDMV returns $11 to the state. The agency currently registers 24 million vehicles; issues more than 7 million vehicle titles; licenses more than 38,000 motor vehicle dealers and distributors; credentials nearly 60,000 motor carriers; issues more than 800,000 oversize/overweight permits; investigates more than 15,000 complaints against dealers and motor carriers; and awards grants to law enforcement agencies to reduce vehicle burglaries and thefts. Learn more at http://www.TxDMV.gov.