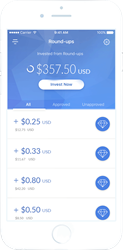 "Skraps is an easy and unique way for users to invest in cryptocurrencies." - Kal Mokhtar, Founder of Skraps
LOS ANGELES (PRWEB) November 30, 2017
One of the most talked about markets worldwide is that of cryptocurrencies. As of November 29th, the market's capitalization was estimated at $359.59 billion, with the leading cryptocurrency, Bitcoin, racing past the $10,000 mark.
In this booming segment, Skraps is about to disrupt the way users invest. It is a state-of-the-art app that enables its users to invest spare change from everyday fiat and cryptocurrency transactions into a diversified portfolio of cryptocurrencies. Investing change becomes effortless and ultra-secure through this platform. Users can make an investment in just a few clicks: connect their debit/credit cards or cryptocurrency wallets, spend like normal, and invest the change.
This app is especially relevant for cryptocurrencies as most transactions are made in fractional coins. Kal Mokhtar, Founder of Skraps, explains, "Despite what Jamie Dimon and other critics believe, cryptocurrencies are here to stay. So many people want to get involved but don't know where or how to start. Skraps will erase that burden."
Now, Skraps is the focus of a very appealing ICO in a segment that has already attracted massive amounts of investments, some campaigns having raised tens of millions of dollars in a matter of minutes. Skraps' campaign will launch in January 2018 for all contributors who are first screened through KYC and AML services.
Additional information and the detailed plan about Skraps is available at http://www.skraps.io.