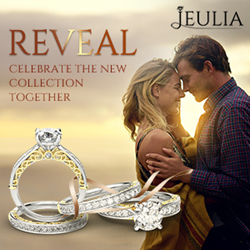 SAN JOSE, Calif. (PRWEB) December 06, 2017
Globally renowned online jewelry store, Jeulia Jewelry has proudly announced the release of its all new hot selling collection called 'Reveal'. This newest collection features some of the most detailed and delicate rings that will reshape the way people propose their loved ones for the wedding. The wedding and engagement rings are designed and detailed by industry experts and almost all rings are two-tone which adds fashion flavor to the traditional wedding ring.
"Here at Jeulia Jewelry brand, we take pride in bringing the highest quality of craftsmanship and detailing in each of our jewelry item and our latest Reveal Collection has been introduced to redefine wedding rings for our valued customers." Said the spokesperson of Jeulia Jewelry, while introducing the all new Reveal Collection by Jeulia. "Each ring is fully handcrafted by our skillful artisan and all of our perfect products are available at fair prices." He added.
The most amazing feature about the Reveal Collection by Jeulia is the detailing and effort that goes into the production of each ring. Every ring is unique in its own way and the experts have focused particularly on minor aspects that are mostly overlooked by most jewelers. In addition, the company offers guarantee, warranty, free shipping, and flexible financing along with secure shopping and good prices. Furthermore, Jeulia Jewelry is backed by the trust of more than one million satisfied customers from around the world.
To find out more about the Reveal Collection by Jeulia Jewelry, please visit:
https://www.jeulia.com/revealcollection.html
https://www.pinterest.com/jeuliajewelry/
https://www.instagram.com/jeuliajewelry/
https://www.youtube.com/c/JeuliaRings
https://www.facebook.com/jeuliaring