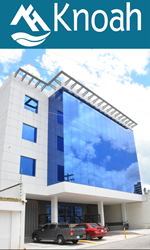 Our investments in new infrastructure shows Knoah's long-term commitment to our Honduras operation.
HENDERSON, Nev. (PRWEB) November 30, 2017
Knoah Solutions, Inc., a global business process outsourcing company, today announced they have expanded their operations in Tegucigalpa, Honduras, with the addition of another location. The expansion comes a year after opening their first location in the capital city.
Situated in the Palmira neighborhood, the new location is a five-minute drive from their first nearshore facility in Costa Próceres. The new, 2000 square meter facility with 402 workstations will increase the total capacity in Honduras to approximately 731 seats for Knoah's contact center operations. The state-of-the-art facility has the latest in communications and security technology, including an uninterrupted power supply, a power generator and biometric and proximity reader access security points.
"Our client and employee growth in Honduras has exceeded our expectations and we are getting a great return on our investment in facilities and staff. We are enthusiastic about doubling our capacity with this new facility," said Ralph Barletta, executive vice president and co-founder of Knoah Solutions.
Knoah will soon begin hiring more than 300 jobs between Palmira and Costa Próceres to keep up with its increasing client base. The majority of openings are for customer care, technical support, sales and interpretation agent positions; though management and support positions are needed, also.
"We are very excited about adding new jobs to the Tegucigalpa community. Our investments in new infrastructure shows Knoah's long-term commitment to our Honduras operation," said Manfred Alvarez, vice president of Latin American operations for Knoah. "We are very thankful to all our collaborators for making this a resounding success for all our clients and investors," continued Mr. Alvarez.
About Knoah Solutions:
Whether you are a Fortune 500 company or a small to medium-sized business, our global BPO services create memorable experiences that matter to your brand. RightENGAGE, our customizable and flexible, multichannel customer engagement solution helps you meet the needs and challenges of each of your customers through traditional and digital channels. TotalAssurance, our award-winning performance improvement solution, allows you to uncover factors that are affecting the quality of your customer interactions. And it is all powered by our proprietary workforce optimization tool, KnoahsARK. We have the adaptability that big companies can't provide and a level of competency and scale that smaller companies can't deliver on. Our innovative and consultative approach has repeatedly earned us awards and recognition from independent review bodies such as IAOP, Everest Group, and Gartner. For more information about Knoah Solutions, visit http://www.knoah.com.