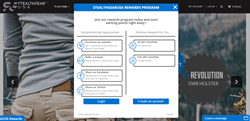 Zinrelo's loyalty rewards program was very easy to implement, and with the reporting we can see at a glance how effective the program is in engaging customers with our brand. - Colton Cook, Production Manager at StealthGearUSA
SUNNYVALE, Calif. (PRWEB) November 30, 2017
Premium holster manufacturer StealthGearUSA has adopted Zinrelo's loyalty rewards program to convert its users into repeat, loyal customers with the help of a comprehensive engagement strategy implemented on its website.
StealthGearUSA is encouraging a 360 degree continuous engagement with its customers through its SGUSA Rewards program. The loyalty program is encouraging users to engage with the brand by awarding loyalty points to its customers for multiple interactions on its website. Some of the activities that are awarded are as follows;

Purchases – 5 points for every dollar spent
Referring a friend – 250 points
Sharing on social media (Twitter, Facebook and Pintrest) – 50 points each
With an objective to boost customer spending on its website StealthGearUSA is offering its loyalty program customers with exciting redemption options. Customers can redeem a $5 coupon for 500 loyalty points and a $10 coupon for 800 loyalty points on its website.
As a result of the 360 degree customer engagement strategy, the SGUSA rewards program is already achieving positive outcome. Loyalty program customers are highly engaged with the brand and loyalty program email notifications have an outstanding 97% open rate and 14% click through rate.
"Zinrelo's loyalty rewards program has been incredibly effective at driving up customer engagement levels in a short period of time," commented Colton Cook, Production Manager at StealthGearUSA. "It was very easy to implement, and with the reporting we can see at a glance how effective the program is in engaging customers with our brand."
The Zinrelo loyalty rewards program offers omni-channel support and ROI-based reporting to those looking for continuous 360-degree engagement with their customers. It allows companies to:
Boost their Average Order Value – by up to 33%
Increase repeat sales from loyalty program customers – by as much as 80%
Boost per-customer revenue – by up to 2.4X
Maximize brand engagement
"With the Zinrelo loyalty rewards program, we've designed a truly comprehensive and highly scalable system. It's the modern-day evolution of traditional loyalty rewards programs." stated Samir Palnitkar, VP of Customer Success at Zinrelo. "The loyalty program has the ability to help brands seamlessly engage with their user base and drive customer retention".
About StealthGearUSA:
StealthGearUSA™ designs and manufactures premium holsters for concealed firearms carry. They meticulously craft every holster from hand-built molds. Proven in the field by professionals and civilians alike, their gear is also employed by military units the world over. Their patented Ventcore® technology has made StealthGearUSA's holsters the standard of excellence for comfort, retention, access to and protection for the firearms they carry.
Since 2012 StealthGearUSA has raised the bar in the concealment gear market by developing relevant innovation. The company designs and builds all products from the ground up, using real-world experience and patented technologies to deliver superior performance for the most demanding users.
For more information, visit https://stealthgearusa.com/.
About Zinrelo:
Zinrelo brings you the world's best loyalty rewards and referral programs, helping to maximize revenue per customer and new customer acquisition through 360-degree customer engagement. It supports omni-channel interactions including desktop web, mobile web, mobile apps and in-store engagements.
Zinrelo loyalty rewards program boosts per-customer revenue by 2.4 times and repeat purchases by 80%. It creates fiercely loyal customers that are rewarded for all forms of engagements including purchases, social advocacy, reviews, sign-ups, referrals, photo sharing and more. It is fully customizable and is easy to deploy. Zinrelo referral program delivers a 25% uplift in new customer acquisition by converting your customers into brand ambassadors.
To zing your loyalty and referral programs, contact Zinrelo at http://www.zinrelo.com or info(at)zinrelo(dot)com