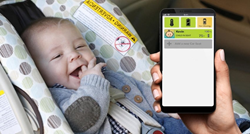 Justin Daniels, a consultant pediatrician at North Middlesex University Hospital, said: "Car seats are desperately important to save lives from car accidents. However, families should not leave babies in car seats for long periods or once they are removed from the car"
(PRWEB) December 04, 2017
By now, almost everyone knows just how crucial it is to always transport any child in a car seat – whether they are going down the road or across the country. As parents, avoiding any and all causes of danger should be the primary thought at all times. But what happens if the one thing that is supposed to protect the child can actually cause serious harm? Recent research has found that transporting a child in a car seat and allowing him or her to fall asleep may actually cause damage. Falling asleep, especially when no one is there to look after the baby (like when mom or dad is driving), can cause the baby to get strangled by the very straps that were to keep him or her safe.
Sleeping Isn't the Only Problem
The use of infant seats decreases infant fatal injuries in a car by 71 percent, per a study completed by the US Consumer Product Safety Commission. During this investigation, they found that the injuries in the other 29% were caused, mostly, by positional asphyxia.
Technology Can Improve Safety
Recently, student of Sycamore High School created a device for car seats to alert parents about the danger of the child's health, especially when a parent is driving and paying more attention to the traffic and not what is happening inside of the car. After all, most parents think their babies are safe with them. Student designed the Breath Safe System that keeps parents informed without pulling their attention from the road. Continue reading on the blog from Best Car Seat Hub for more information about how it integrates into an existing system.
There are many other forms of technology available on the market today as well. In some stores (though it is somewhat rare), parents can find a variety of clips and supports for the baby's neck. However, most parents feel like their children aren't comfortable enough or that they don't fall asleep as quickly or something similar – but that might be a worthwhile trade. In time, a child will get used to the feeling.
Emma Lachey, the founder of the project BestCarSeatHUB, believes that the time has come for smarter technology when it comes to car seats. She believes that it's pretty cool that technology can help parents and their children be safer, smarter, and better off. Breath Safe System needs to be modified to add features checking the temperature or heartbeat for it to be a complete system. I think that working as a community of parents we will be able to come up with a better solution and offer it to manufacturers.
To follow the latest news of children's safety in the car, you can follow us on Facebook