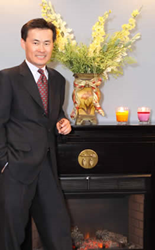 WALNUT, Calif. (PRWEB) November 30, 2017
New patients with receding gums in Walnut, CA, are now welcome to visit Dr. Jin Y. Kim to receive the minimally invasive Pinhole® Surgical Technique, with or without a referral. Gum recession can cause the teeth to look elongated, cause bad breath and can also lead to sensitive teeth. Patients with these symptoms are invited to visit Dr. Kim for a treatment consultation.
Dr. Kim is a board-certified periodontist who lectures internationally on gum recession treatment and other periodontal services. The trusted doctor has two state-of-the-art practices: one in Garden Grove, CA, and the other in Diamond Bar, CA. He offers leading treatment at both locations, including the minimally invasive Pinhole Surgical Technique. The revolutionary technique is gentle and effective at reducing symptoms of gum recession and restoring the beauty of the smile. Patients with receding gums in Walnut, CA, often live with daily embarrassment as well as sensitive teeth when drinking hot or cold beverages or eating sugary foods. As gum tissue recedes, it can start to expose the roots of the teeth, which can lead to chronic discomfort.
Traditional treatments for gum recession involve cutting healthy tissue from one area of the mouth and securing it to the receded area with sutures. This process is called gum grafting, and it can be fairly uncomfortable. The Pinhole Surgical Technique is a gentle alternative and does not require healthy tissue to be surgically removed from other areas of the mouth. Instead, the gum tissue in the receded area is gently separated from the teeth with special tools and adjusted to cover the receded areas of the teeth. All of this is done through a tiny hole that is about the size of a pinhole.
Patients with sensitive teeth and other common signs of receding gums in Walnut, CA, are encouraged to find out more about the gentle Pinhole Surgical Technique. To schedule a consultation, individuals are invited to call Dr. Jin Kim Periodontics or visit the website at http://www.drjinkim.com.
About the Doctor
Dr. Jin Y. Kim is a periodontist dedicated to providing personalized dental care in Diamond Bar and Garden Grove, CA. Dr. Kim attended the University of Sydney Faculty of Dentistry before furthering his education with an advanced degree in pathology from the Medical School of the same University. Dr. Kim completed a periodontics and implant surgery residency at UCLA School of Dentistry. A uniquely dual board-certified specialist, Dr. Kim was board-certified by the American Board of Periodontology and the American Board of Oral Implantology/Implant Dentistry. The International Congress of Oral Implantologists and the American Academy of Implant Dentistry both gave him the title of Fellow. He was also inducted to be a Fellow of the prestigious American College of Dentists. Dr. Kim enjoys lecturing at UCLA School of Dentistry as well as national and international academic and clinical associations and universities including the International Association of Dental Research, American Academy of Periodontology and Academy of Osseointegration. To learn more about Dr. Jin Kim and the services he offers, visit his website at http://www.drjinkim.com or call 909-860-9222 for the Diamond Bar location or 714-898-8757 for the West Garden Grove location to schedule an appointment.