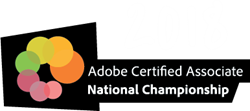 SALT LAKE CITY (PRWEB) November 30, 2017
Certiport, a Pearson VUE business, is now taking submissions for the 2018 Adobe Certified Associate U.S. National Championship. The competition is designed to promote certification and showcase creative students with expert digital design skills using Adobe Photoshop, InDesign, and Illustrator.
U.S. students ages 13 to 22 who have earned Adobe Certified Associate (ACA) certification in Photoshop, Illustrator, or InDesign between the dates of June 16, 2017 and June 15, 2018 are eligible to submit a project. Projects should demonstrate design ability and can be created in any school program or specifically for the competition. The projects will be judged by a team of creative experts and the top three U.S. winners will win an all-expenses-paid trip to represent the U.S. and compete in the 2018 ACA World Championship in Orlando, Florida, July 29 – Aug. 1, 2018.
"The Adobe Certified Associate U.S. National Championship identifies and recognizes the next generation of design professionals," said Aaron Osmond, General Manager, Certiport. "The winners will have a once in a lifetime experience at the ACA World Championship as they compete against finalists from all over the world to design a creative project for a real-world client."
In 2017, Ana Katarina Charvet from Las Vegas became the first ACA World Champion from the U.S. In its fifth year, the competition attracted more than 110,000 candidates from 67 countries to prove their superior digital design skills. For more information or to submit a project for the ACA U.S. National Championship visit http://www.acachampionship.com/us.
About Certiport
Certiport, a Pearson VUE business, is the leading provider of certification exam development, delivery and program management services delivered through an expansive network of more than 14,000 Certiport Authorized Testing Centers worldwide. Certiport manages a sophisticated portfolio of leading certification programs including the official Microsoft Office Specialist certification program, the Microsoft Technology Associate certification program, the Microsoft Certified Educator program, the Adobe® Certified Associate certification program, the Autodesk Certified User and Autodesk Certified Professional certification programs, the Intuit QuickBooks Certified User certification program, the Toon Boom Certified Associate certification program, the IC3 Digital Literacy certification, and the Certiport Business Fundamentals certification program. Certiport reliably delivers more than three million tests each year throughout the secondary, post-secondary, workforce, and corporate technology markets in 148 countries and 26 languages worldwide. For more information, please visit http://www.certiport.com or follow Certiport on Twitter at http://www.twitter.com/certiport.
"Certiport" and "IC3" are registered trademarks of NCS Pearson Inc. in the United States and other countries. The names of actual companies and products mentioned herein may be the trademarks of their respective owners.