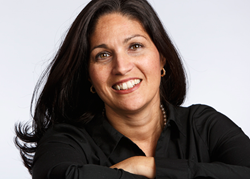 I'm very honored to be recognized among such highly respected female achievers
BOHEMIA, N.Y. (PRWEB) December 01, 2017
Thursday, November 30, 2017, Lisa Mirabile, Founder and CEO Vertigo Media Group Inc. (VMG), will be honored at Long Island Press' Power Women in Business Networking and Awards Event. The ceremony will distinguish Mirabile as one of Long Island's most powerful and influential women in business whose major achievements and participation have helped make a difference in the community.
The event will take place from 6:00 – 9:00pm at Leonard's Palazzo in Great Neck, NY and follow a networking affair attended by more than eight hundred business leaders. The evening will feature talk Show Host, Donna Drake of WLNY, as emcee among the list of venerable honorees. The public is invited to purchase tickets or sponsor the event at the Schneps Communications Events website.
Schneps Communications' Publisher Victoria Schneps first launched the event in 1990 to empower and connect women. The award was conceived to celebrate women who have led through community, culture, politics, civic action or religious leadership.
"I'm very honored to be recognized among such highly respected female achievers," Mirabile shared.
Recognized as an industry expert, Mirabile has given many seminars on marketing and delivered addresses to young graduates looking to start their careers in marketing. Dedicated to her community, she has helped raise funds and donated graphic services to foundations such as the LI2-Day Breast Cancer Foundation, The Sepe Foundation, and The Port Washington Library Foundation.
Mirabile founded Vertigo Media Group, a full-service Marketing Communications firm with a strong focus on brand advertising. Vertigo specializes in branding young companies, along with reinvigorating existing brands. In 2014, Mirabile acquired another Long Island agency and merged the two operations nearly tripling VMG's gross sales. In 2017, Vertigo launched Spanglish, a cross-cultural marketing program to help brands enhance their reach with the growing Hispanic community.
Founded in 2004, Vertigo Media Group is a full-service agency catering to small local businesses and national corporations alike with a unique style tailored to each client's specific needs. The agency's services meld integrated experiences across multiple channels, bridging brand, market research, design, website development, digital, print media and more.