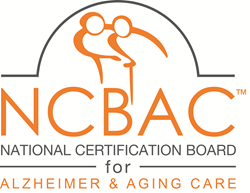 "Workforce development has never been more critical than it is in the area of elder care."
CHICAGO (PRWEB) December 06, 2017
According to Dr. Donna Surges-Tatum, President of NCBAC, "We are pleased to be recognized in the Department of Labor's One Stop Shop as the certification for Alzheimer's and dementia (ADRD) care."
Kimberely Rommen, President of the American Training Center adds, "Workforce development has never been more critical for elder care. Employers throughout the country face a growing need for highly skilled caregivers, especially in the area of dementia care. Students leave with practical ideas that they can immediately apply in their jobs. We believe these graduates will make a positive and competent contribution to elder care."
Every day in the US more than 10,000 people turn 65. This change in our demographic is not subtle. As people age, the need for care increases exponentially.
The NCBAC training course presents the information in eight modules. Each module provides instruction in a different aspect of ADRD. Topics include the different types of disease, stages, behavior, medications, how to understand and care for the patient and more. Certification exams are based on detailed knowledge of the work resulting from extensive data gathered from current caregivers.
When participants pass the certification exam, they receive a Certificate of Achievement and the ability to use the CAC(tm) credential on their business card and in correspondence. They also received a lapel pin to wear in their daily work. Certifications must be renewed yearly.
Ms. Rommen adds, "We are proud to work with NCBAC in this program. They offer a comprehensive, national level exam that raises the bar for ADRD. It has also been rewarding to work with Elmwood Hills as they make such a large commitment to education for their employees."
NCBAC is the only independent national board that follows the healthcare certification/licensure model to administer standardized certification examinations in dementia care. The purpose of the Board is to provide a benchmark for core competencies and knowledge for those who provide care and education in the field of dementia.