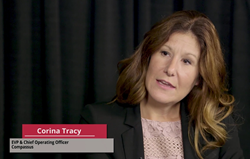 "What would they do right now if they didn't have hospice care?"
NASHVILLE, Tenn. (PRWEB) December 05, 2017
Business of Healthcare, an interview series hosted by Matthew Hanis, spoke with industry experts Corina Tracy, executive vice president and chief operating officer of Compassus, and Blake Marggraff, founder and chief executive officer of Epharmix, on the importance of end-of-life conversations in its latest interview titled "The Conversation: Predicting Hospice."
Hospice care, although proven to reduce suffering and costs for patients at the end of life, is often only initiated in the last seven days of life although the benefit extends to the last six months of life. In the interview, Hanis asks, 'Why do clinicians delay the conversations leading to earlier initiation?"
"The biggest barrier to end-of-life care is being more mainstream," Tracy says. She adds that for physicians and other providers, "It's a high-risk conversation…you're not sure how the patient's going to respond."
Tracy, who began her career as a hospice nurse and has served patients at end-of-life for more than 25 years, emphasizes how hospice care improves the quality of life for patients and their families. "I learned very quickly hospice makes things so much better. I often would leave somebody's house and think to myself, 'What would they do right now if they didn't have hospice care?'"
Marggraff, whose Epharmix platform has been proven in clinical trials to engage even the most complex patients for more than a year, argues predictive analytics and advanced engagement methods could help with earlier transitions to hospice.
"I take an evidence-based approach to product development. It doesn't feel safe to innovate in the face of lots of risk, and unlike pharmaceuticals and medical devices, a lot of technology out there hasn't been shown to really drive value," reports Marggraff. "Epharmix helps make the decision to transition a little bit more comfortable."
His firm helps thousands of individuals self-report their health status to their physician or health system on a daily or weekly basis. The results are proven savings, happier patients and more productive care managers. The company is exploring incorporating end-of-life care and hospice into the platform.
To view the full interview, please visit BOHSeries.com.
About Compassus
Compassus is a nationwide network of community-based post-acute care services focused on hospice, palliative and home health care. The Nashville, Tennessee-based company was founded in 2006, but its roots in hospice reach back to 1979. Today, the company operates more than 96 hospice, palliative and home health programs with 151 locations in 31 states across the U.S. The mission of Compassus is to honor life and offer hope to individuals facing serious or terminal illness by supporting them with a common culture focused on three core values: Compassion, Integrity, and Excellence. Compassus employs more than 4,500 colleagues who provide a range of home health, hospice and palliative services and other resources to benefit patients and families. Our primary goals are to provide the highest quality post-acute care in every community in which we operate, and to be both the provider and employer of choice. For more information please visit compassus.com, follow the company on Facebook or call (877) 377-1607.
About Epharmix
Epharmix is the leader in evidence-based remote patient monitoring that accelerates the communication process between care managers and their high and rising-risk patients. Automated SMS text and phone-based messages specific to a patient's medical condition, are sent to the patient's own device including smartphone, pay-as-you-go phones and land lines. Epharmix collects key patient biometrics and self-reported data to provide actionable alerts to care teams for timely outreach to prevent unnecessary hospitalizations or exacerbations. See how we help providers succeed in value-based care at http://www.epharmix.com or try a self-guided demo at try.epharmix.com.
About Business of Healthcare
BOH is an interview series serving the top decision makers across healthcare. Each episode brings together healthcare executives and innovation thought leaders to explore proven solutions to healthcare's most complex problems. An editorially-independent and non-partisan media service, each BOH episode advances healthcare Mission and Margin. Published interviews are free to access at http://www.BOHSeries.com.
Media Contacts
Carol Fite Lynn
Director of Communications
Compassus
(615) 480-0335
Carol.Lynn(at)compassus(dot)com
Jason Roche, MPH
Growth Engineer
Epharmix
(314) 272-2586
jason(at)epharmix(dot)com
Kristin O'Neil
Media Relations
Business of Healthcare
(636) 537-5454
insight(at)BOHSeries(dot)com