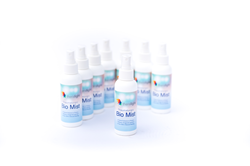 Nature itself is the best physician. ~ Hippocrates
Carlsbad, CA (PRWEB) December 04, 2017
What if there was a topical solution one could apply to a laundry list of skin irritations and injuries that could cut downtime of days to hours? Enter, the Thaumaturgic Bio Mist from Theralight. Now available on Amazon the skincare product works its wonders with an active ingredient normally found in the body. The bio mist quickly and naturally soothes cuts, scrapes, rashes, bug bites, and sunburns. Moreover, it helps repair acne as well as reduce scars, swelling, and enlarged pores. Multi-faceted for a hypo-allergenic skincare product, it's reported that those with the most sensitive skin can use it; even for yeast infections.
So how does it work? The Thaumaturgic Bio Mist uses the HOCL oxidized molecule mixed with salt and water and given a very specific electric charge. This process creates something similar to what's found in the body's white blood cells. Acting as a second line of defense at the site of the condition, it destroys bacteria and pathogens all thanks to the natural component hypochlorous acid or HOCI.
Causing no dryness, and free of sodium sulfates, artificial colors, preservatives, and fragrances the product is known to be safe to use on any part of the body. It will work on all skin types as the bio mist contains no parabens, alcohol, or oils.
Everett Smith, CEO of Theralight, Inc. said of the natural skincare product, "We're elated to offer the bio mist on Amazon so that everyone can make use of a product that has no harmful chemicals and helps speed skin repair. Its uses run the gamut. Moms are using it to disinfect their children's scraped knees, and those with microdermabrasion treatments or tattoos are soothing their skin with the antibacterial too. It can even be used on Rosacea and fine lines to hydrate the skin. It's a phenomenal product."
For more information visit https://theralightinc.com. To order the Thaumaturgic Bio Mist on Amazon visit http://amzn.to/2i3CJws.