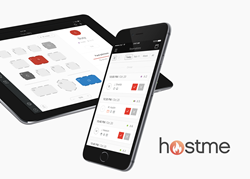 We've seen amazing results and progress in the past year. We'll use this investment to move our business forwards to full throttle
BELLEVUE, Wash. (PRWEB) December 01, 2017
Hostme, an emerging provider of restaurant reservation and table management solutions, today announced that it has raised its second investment round from Shaffer Family Trust. The new investment will be used to accelerate Hostme's growth globally.
In recent years, Hostme has challenged the restaurant reservation industry status quo and offered the latest technology packaged into an intuitive and affordable solution for restaurants. As guest behavior rapidly evolves, so should the technologies available to restaurant owners. With its previous investment round, the Hostme team has developed the Hostme app that enables restaurants to accept reservations online and to manage their waitlists and guests from any mobile device.
Many of Hostme's customers, from large chains to independent restaurants, are building their success around that solution. Coupled with the increasing demands in recent years for online reservations and for the convenience of modern waitlist management, this highlights Hostme's momentum and growth, and solidifies the company's position as a main player in this space.
"Our new funding from Shaffer Family Trust will help us accelerate our growth and widen our penetration into the small/medium chains and the international market," says Evgeny Popov, CEO and co-founder of Hostme. "We've built an amazing product, and we've seen amazing results and progress in the past year. We'll use this investment to move our business forward to full throttle. We will soon be opening sales and customer success offices in Europe to support our growing customer base."
About Hostme:
Hostme delivers a powerful restaurant management solution through an advanced reservation and table management system for restaurants. Intuitive and easy to use, it has everything a restaurant owner needs to manage their floor and serving staff -- all in one app that can run on virtually any device. From administering waitlists and accepting online reservations, to remembering guest preferences and assigning servers and tables, Hostme was built based on the needs of and feedback from restaurants. And the cherry on top? You get an unlimited number of parties for a flat monthly fee -- no hidden charges, no fine print. To learn more, visit: http://www.hostmeapp.com