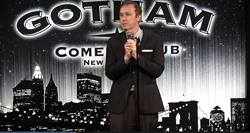 Public speaking is a vehicle for sharing Hold Brothers' storied corporate history.
New York, NY (PRWEB) December 01, 2017
Gregory Hold, CEO of Hold Brothers, has unveiled a new site showcasing his public speaking work and stand-up comedy hobby – http://www.gregoryhold.com.
Gregory Hold speaks on the topics of trading regulation and compliance, anti-manipulative trading, broker-dealer management, market structure and technology. He draws from 20+ years of experience in the trading industry. Greg's most recent engagement was as a featured speaker at the Trader's Expo New York on compliance and regulation. In his presentation, "Catching Market Manipulation in the Day Trading World - Regulatory Concerns and Challenges Ahead," he covered best practices for compliance surveillance programs and insights from his 23 years of experience in broker-dealer management.
Seeking to be better trained for his public speaking engagements at finance industry events and conferences, Gregory pursues comedy performances as a hobby. Greg performs several nights a week, all over Manhattan and often at the Gotham Comedy Club. In June 2016, Greg took third place in the Funniest in Finance competition at Gotham Comedy Club, where he performed in two nights of preliminaries and one night of finals in front of a sold out audience of over 300 people. More recently, Greg was selected to perform in the Cleveland Comedy Festival, San Diego Comedy Festival and in the Winter Laughs competition as part of the Winter Film Awards. Greg has also participated in the World Series of Comedy where he has been selected to perform in Chattanooga, Pittsburgh, and Colorado Springs. In Chattanooga, Greg took first place in the preliminaries and moved on to the next round.
"Public speaking is a vehicle for sharing Hold Brothers' storied corporate history," says Gregory Hold. "I also enjoy comedy because it is cross-training for public speaking and serves as a contrast to the day to day management of the broker-dealer."
About Hold Brothers
Hold Brothers is a leader in providing equities traders with the tools and information they need to execute trades quickly, effectively and efficiently, in any market environment. Since 1994, Hold Brothers has been committed to developing flexible and cutting-edge technology designed to meet the changing demands of the global trading industry. For more information, please visit: http://www.hold.com.
*Hold Brothers is the marketing name for Hold Brothers Capital, LLC, (a registered broker-dealer and a FINRA member) and its affiliates. All securities activities and transactions are handled through Hold Brothers Capital, LLC.
For more information contact:
(Vera Shulgina, vshulgina(at)hold(dot)com, 646-745- 2112)