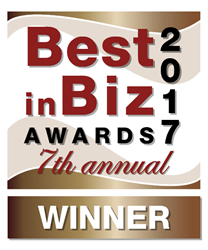 We drive ourselves to continuously be at the forefront of technology and client success
SAN FRANCISCO (PRWEB) November 30, 2017
Regroup Mass Notification, industry-leading provider of emergency and day-to-day mass communication solutions, has been named Best in Biz Awards 2017 winner in the category of Best New Version of the Year-Enterprise/SMB.
The winners of Best in Biz Awards were determined based on scoring from an independent judging panel comprised of prominent editors and reporters from some of the most respected newspapers, TV outlets and business, consumer, technology and trade publications in North America. This year's judging panel included Associated Press, Atlanta Tribune, Business News Daily, Consumer Affairs, Entrepreneur, Forbes, Harvard Business Review, Healthcare Innovation News, Inc., Security Products Magazine and Wired, among others.
"Amazing variety in the finalists in Best in Biz Awards this year," said Christopher Null, Wired, returning to judge the awards for the sixth year. "It was incredibly difficult to pick a winner!"
Regroup was named a winner for its commitment to developing the best and most innovative mass communications platform. This award recognizes Regroup's newest developments in geo-targeting, APIs, and native mobile apps, which resulted in a more powerful mass communications platform for corporations, healthcare facilities, educational institutions, faith-based organizations and anywhere that reliable mass communication is necessary.
"We are honored to be selected as the winner of this award," said Chris Utah, COO of Regroup. "We drive ourselves to continuously be at the forefront of technology and client success."
For a full list of winners in Best in Biz Awards 2017, visit: http://www.bestinbizawards.com/2017-winners.
About Regroup Mass Notification:
Regroup, the leading provider of emergency and day-to-day mass notification solutions and DRI Notification System of the Year, offers easy, one-click messaging to mobile phones (text/voice), landlines, email, social media, websites and more. Regroup stands apart from other mass communication systems with its ease of use, automated messaging capabilities, seamless integrations with third party systems and client databases, unparalleled 24/7 client support and unlimited text/voice/email messaging.
To learn more about Regroup's powerful platform, call 855-REGROUP, visit us online at http://www.regroup.com or email inquiries(at)regroup.com.
About Best in Biz Awards
Since 2011, Best in Biz Awards, Inc. has made its mark as the only independent business awards program judged each year by a who's who of prominent reporters and editors from top-tier publications from North America and around the world. Best in Biz Awards honors are conferred in two separate programs: North America and International, and in 65 categories, including company, team, executive, product, and PR and media. For more information, visit: http://www.bestinbizawards.com.