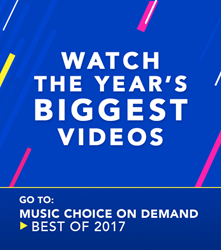 (PRWEB) December 01, 2017
Bruno Mars "That's What I Like" is Music Choice Best of 2017. Mars holds the distinction of having the #1 video of the year for 2017. Unlike other "Best of..." or year-end round up lists, Music Choice Best of 2017 is aggregated using Music Choice's extensive data impressions from TV and mobile devices mirroring Music Choice's consumer experience.
Starting Friday, December 1st, Music Choice Best of 2017 can be found on Music Choice On Demand as a top level category. The folder contains music videos from the year's most popular artists including Bruno Mars, Cardi B, JoJo Siwa, Lil Uzi Vert, Taylor Swift, along with custom playlists with the top videos from Pop, Hip Hop, Rock, Country, Rock, and Latin genres.
Get Music Choice on all your devices, and find out more at app.musicchoice.com