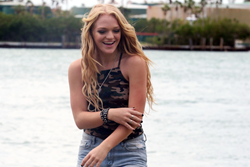 "My friend Blaise is now singing with me from heaven—taken from us too soon. This song and video are dedicated to him. I want the whole world to love each other and treat everyone with respect," JoAnna proclaimed. "Life is about sharing good times and happiness with others. Carpe diem!"
New York, NY (PRWEB) December 02, 2017
Ring the alarm and get ready to party in white-hot SoBe style! Twin Angel Records announced today, the official release of pop princess JoAnna Michelle's sizzlin' hot music video, "Blaze the Dance Floor." The powerful music video was shot on location at the legendary 11th Street Diner in Miami Beach, Florida, on October 26, 2017. Featuring a flaming cavalcade of South Beach's superstar drag queens, JoAnna Michelle ignites the world with a fiery new anthem. Esteemed drag artists performing in the video with JoAnna include: TP Lords, Missy Le Paige, Noel Leon, Adora, Athena Dion, Tiffany Fantasia, Aaliy Ali Jae, and Elishaly D'Witshes.
"Shooting 'Blaze the Dance Floor with all of the 'girls,' my new incredible friends, has been the highlight of my career thus far," states JoAnna Michelle. "The song is sick with super-addicting beats. Bringing everything together in South Beach is a dream come true!"
The "Blaze the Dance Floor" project has even deeper meaning for JoAnna Michelle. She recently lost a dear friend named Blaise and is dedicating the video to his extremely bright spirit.
"My friend Blaise is now singing with me from heaven—taken from us too soon. This song and video are dedicated to him. I want the whole world to love each other and treat everyone with respect," JoAnna proclaimed. "Life is about sharing good times and happiness with others. Carpe diem!"
The fantasy-driven "Blaze the Dance Floor" was produced for Twin Angel Records and co-produced by Mind Juice Records producer and American poet Jimmy D Robinson. "Blaze the Dance Floor" is directed by Dre Kahmeyer and Wesley Quinn with choreography from Amy Pollard.
JoAnna Michelle's forthcoming single "Blaze the Dance Floor" was written by Marty Bowie and Kim Bowie and will set speakers afire quite rapidly. The new single can be downloaded by clicking here.
Executive producers for the project are Brad Pistotnik and Christina Pistotnik for Twin Angel Records.
Watch the brand spankin' new, blistering-hot music video for "Blaze the Dance Floor," which can be seen on YouTube by clicking here. Stay tuned for dynamite remixes exploding on dance floors soon!
Follow JoAnna Michelle on Instagram now!