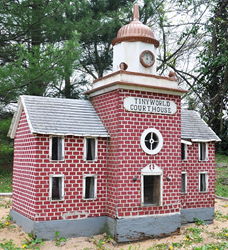 During the 2017 holiday season, Tiny World transforms to a winter wonderland as the sun sets.
SHIPPENSBURG, Pa. (PRWEB) November 30, 2017
Franklin County Visitor's Bureau invites the public to Tiny World in Shippensburg this holiday season. This tiny town has everything that life-sized towns have, including town hall, schoolhouse, church, fire station, shops of Main Street, Victorian houses, log homes, general store, train depot, and gas station. More than twenty structures make Tiny World a great place to spark the imaginations of young and old.
During the 2017 holiday season, Tiny World transforms to a winter wonderland as the sun sets. Open Monday through Thursday from 5 PM to 8 PM, Friday and Saturday 5 PM until 10 PM and Sunday 5 PM to 9 PM, Tiny World is an easy drive off Route 11 on Rice Road in Shippensburg and will remain decorated for the holidays through the first week of January 2018.
In 1985, Ernest Helm retired and devoted his energy to creating "Tiny World." The first structure was a Victorian-style "cat house" for the enjoyment of felines who roamed his property. It wasn't long before an entire town took shape, and a retired man's hobby become a roadside attraction.
Today, Helm's daughter and son-in-law, Donna and Wendell Myers, are Tiny World's caretakers. Everything is as authentic as possible. Although the small structures can be seen throughout the year, a holiday visit is extra special.
Admission is free, but donations are accepted. Tiny World also appreciates contributions of lights and decorations to keep the town well-adorned for future holiday seasons.
The Franklin County Visitors Bureau invites all to explore Franklin County PA and enjoy the history, arts and entertainment, recreation and natural beauty, and the fresh foods and warm hospitality of charming communities like Chambersburg, Greencastle, Mercersburg, Shippensburg, and Waynesboro. Franklin County PA is located just north of the Mason Dixon Line and an easy drive to Washington DC, Philadelphia, and Pittsburgh. Discover more....plan your visit at ExploreFranklinCountyPA.com or by contacting 866.646.8060.