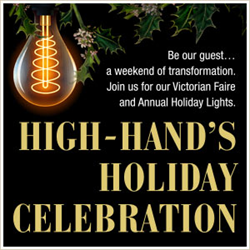 …the ideal place to find unique gifts for that person who has everything…
LOOMIS, Calif. (PRWEB) December 01, 2017
Stroll, shop, eat, and drink. This weekend, High-Hand Nursery is opening its doors and turning on the lights for a memorable Victorian holiday event, held in both the nursery and the historic High-Hand fruit sheds. Artists and crafters from around the region will be attending this holiday event, making it the ideal place to find unique gifts for that person who has everything – Christmas presents, decorations, and gifts for any occasion.
Guests can also experience the annual tree lighting ceremony. On Saturday, at 6 p.m. the lights will turn on, with thousands of sparkling lights illuminating the nursery. Dinner will be served at the High-Hand Café from 5:30 to 8:30 p.m. Reservations fill up quickly, but guests are encouraged to stop by the café if they are interested because things change frequently.
This holiday event takes place on Saturday, December 2, from 10 a.m. to 8:30 p.m. and Sunday, December 3, from 10 a.m. to 4 p.m. at High-Hand Nursery, located at 3750 Taylor Road in Loomis. For more information, contact High-Hand Nursery 916-652-2065 ext. 4. Visit the website to learn more.
____________________
About High-Hand Nursery
High-Hand Nursery, recently voted best garden center for the Sacramento area, offers an array of plants, flowers, trees, and vegetables from top growers in the region. Visitors can also find unique items like succulents, topiaries, hanging baskets, and others. In addition to plants, the nursery carries hard-to-find garden accessories and artwork – pottery, sculptures, benches, tables, fountains, and other garden treasures.
High-Hand has a full staff of knowledgeable salespeople ready to assist customers with their gardening needs. Additionally, High-Hand Nursery connects visitors with services like landscape consultation, design services, and aquatic garden design, consultation, and installation. The nursery is open every day, from 9-5 Monday through Saturday and 9-4 on Sunday.
After spending some time in the nursery, visitors can stop for a bite to eat at High-Hand Café, the nursery's farm-to-fork restaurant. This picturesque garden café was voted one of the top three best romantic restaurants in the Sacramento area per the KCRA City Voter. The menu reflects a passion for farm fresh local ingredients and hand made quality. When weather allows, food is delivered straight from the nearby farms to High-Hand Café – fresh vegetables, berries, citrus, and fruits. The café is open Tuesday through Friday from 11 a.m. to 3 p.m., and Saturday through Sunday from 9 a.m. to 3 p.m.