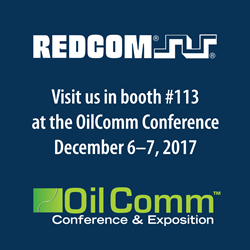 (PRWEB) December 04, 2017
REDCOM Laboratories, Inc., the leading supplier of mission critical secure communications solutions, is pleased to announce it will be at the OilComm Conference & Exposition in Houston, TX, December 6-7.
At the OilComm Conference, REDCOM will show how the company's technology can reliably interoperate with virtually any voice communications system in the world. One REDCOM system can provide secure connectivity from upstream back to corporate headquarters via a wide variety of end devices including VoIP phones, landlines, smartphones, satellite phones, and radios.
Recognizing the industry's need to reduce size, weight, and power (SWaP), REDCOM built the Server 1600, a ruggedized small form factor appliance ideal for deployments to offshore sites, oil platforms, and industrial settings. Its unique 1U, half-rack form factor allows two servers to be installed side-by-side in a standard 19" rack or transit case, enabling redundancy and High Availability in a very compact space. Server 1600 is the ideal platform for running REDCOM's Sigma® Core call control software.
Sigma Core is a powerful and flexible platform that delivers a comprehensive set of UC functions, including VoIP, point-to-point video, XMPP with presence, conferencing, and unified messaging. Sigma Client is REDCOM's secure VoIP app for Windows® and Android™ that includes integrated Push-to-Talk support, enabling the app to key any radio in the network for instantaneous communications.
Sustain mission critical communications in an IP-denied environment
At OilComm, REDCOM will also discuss CrucialConnect™, the company's solution for communicating in a denied environment. CrucialConnect is a family of customizable and deployable packages designed to restore critical communications in minutes, with options for HF, VHF, LTE, and SATCOM redundancy.
"Today's business leaders must understand the challenges of the cyber domain, learn how to leverage it to their advantage, and most importantly be well-versed and practiced in sustaining critical command and control functions in the cyber denied environment," said REDCOM Director of Strategy Col. Sweeney. "REDCOM CrucialConnect is designed to provide businesses with unmatched security, connectivity, and interoperability in the IP environment while enabling the mechanisms to communicate securely when that environment has been rendered inoperable."
For more information on sustaining communications, please join Col. Sweeney on Wednesday, December 6 from 2:00–2:30 in Briarpark 1 for a presentation on Operational Continuity in a Communications Denied Environment.
About REDCOM
REDCOM specializes in the design and manufacture of advanced communications solutions with a focus on interoperability, reliability, and security. REDCOM's MIL-spec products are optimized for low size, weight, and power (SWaP), making them the ideal communications core for denied environments or deployments to rugged environments. The company's latest innovation, Sigma Core, is a software platform that delivers robust call control, media handling, and encrypted communications. REDCOM's customers include energy companies, enterprises, all branches of the military, government agencies, emergency responders, and integrators. For additional information, please visit the REDCOM website at http://www.redcom.com.