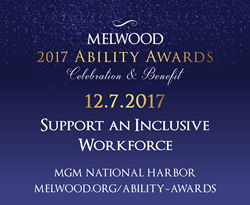 "I applaud the work that Melwod is doing in our region, especially its innovative programs and services that promote job placement, workforce inclusion, and reintegration," said Marine Corps veteran, Rob Jones.
UPPER MARLBORO, Md. (PRWEB) December 01, 2017
Celebrated veteran and athlete Rob Jones will be the featured speaker at Melwood's 2017 Ability Awards Benefit, and three-time Emmy Award-winning journalist, Peggy Fox will serve as the emcee. The event will be held at the MGM National Harbor in Maryland on December 7, and will recognize leaders who have demonstrated a commitment to helping people with differing abilities soar beyond conventional barriers in the workplace.
Jones, a wounded warrior who recently earned national recognition after completing an impressive 31 marathons over 31 days in 31 different cities on prosthetic legs, will inspire and motivate with his story of resiliency and triumph.
"It's an honor to be a part of this Melwood celebration," said Marine Corps veteran, Rob Jones. "As someone who calls Virginia home, I applaud the work that Melwood is doing in our region, especially its innovative programs and services that promote job placement, workforce inclusion, and reintegration."
For over 50 years, Melwood has provided supportive programming to individuals with differing abilities, allowing them to explore interests, develop skills, and choose a vocation. The Ability Awards honor outstanding individuals, community leaders, corporations and other institutions who share Melwood's vision of a world where people with differing abilities are fully included.
"Melwood aims to serve as a beacon of hope for dreamers like Rob," said Cari DeSantis, President & CEO at Melwood. "The Ability Awards celebrate those in our community who enrich the lives of people with differing abilities by focusing on their goals and abilities and helping them reach their potential."
The 2017 Awards will honor CVS Health with the Corporate Leadership Award for its innovative Abilities in Abundance program, which breaks down employment barriers faced by people with differing abilities. As part of this initiative, they have developed mock CVS Pharmacy stores, allowing individuals to gain retail and materials handling skills needed to gain meaningful employment.
The Research & Innovation Award will be given to Nelson and Michele Carbonell, the founding donors, and to the Director, Dr. Kevin Pelphrey of the George Washington University Autism and Neurodevelopmental Disorders Institute. The Institute is using evidence-based clinical treatments to conduct research on the full spectrum of adults with autism. The Institute focuses on expanding the body of research on autism in girls, developing interventions for adolescents and adults with autism, and helping them transition to adulthood. Nelson A. Carbonell, Jr. is also the Chair of the George Washington University Board of Trustees.
The Lifetime Achievement Award will be given to Linda Chandler, President & CEO, Linden Resources, Arlington, Va., and the Community Impact Award to Don Thompson, Owner, Don's Café, Hyattsville, Md.
To purchase tickets to attend this evening of inspiration and celebration or to become a sponsor, please visit http://www.Melwood.org/Ability-Awards. In addition to Rob Jones, guests will include prominent elected officials and other supporters of Melwood.
MEDIA ADVISORY
To request an interview or to attend the Ability Awards on Thursday, December 7 at the MGM National Harbor in Oxon Hill, Md., please contact Chantay P. Moye, Director of Marketing & Communications at 240-687-3144 or cmoye(at)melwood(dot)org.
About Melwood:
Melwood is a 501(c)(3) non-profit that advocates for and empowers individuals of differing abilities to transform their own lives through unique opportunities to work and play in the community. Melwood supports over 2,100 children, youth, and adults with differing abilities each year – as well as veterans coping with deployment-related trauma – to maximize their independence and inclusion within their community. Melwood is one of the largest employers of people with differing abilities in the United States and provides services such as job placement, training, day services, supported living, and recreation to individuals in the Washington, metropolitan area. Melwood employs more than 1,300 workers, including nearly 700 people with a differing ability. For more information, visit http://www.melwood.org.
About Rob Jones:
Rob Jones grew up on a farm in the small town of Lovettsville, Virginia. He graduated from Loudoun Valley High School in 2003, and from Virginia Tech in 2007. Rob Jones served as a combat engineer in the Marine Corps Reserve before being wounded in action by a landmine in 2010 in Afghanistan. The explosion resulted in the amputation of both his legs. Jones' incredible story of perseverance also includes receiving a bronze medal for rowing in the Paralympics, having biked over 5,000 miles across the country, and raising hundreds of thousands of dollars for veteran-related causes.