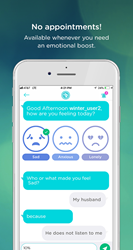 Achieving mental wellness has never been easier or more tangible with the 2-step Precipeace solution
LOS ANGELES (PRWEB) December 01, 2017
Precipeace, Inc. today announced the launch of an innovative web and mobile application to help people better their mental wellness naturally in the comfort and privacy of their computer or mobile device. The new solution-focused application was developed by a technologist who specializes in behavioral health applications, a physician, psychologist, positive psychologist and psychiatrist.
Co-founders Justin Wong, B.S., CS and Tom Chao, M.D. set out to enable people to live happier lives by combining CBT, positive psychology and other multifactorial techniques with simple to use, accessible technology. According to Justin Wong, Precipeace is the only solution-focused online wellness companion that empowers people to transform negative emotions into positive actions. Precipeace helps people identify and challenge their negative thoughts before it leads to more physical, emotional, and behavioral problems without medication or appointments," he said.
The need is clear, with the National Institutes of Health (NIH) estimating that 18.5% of the population, or 43.8 million people, experience mental health illnesses in any given year - approximately 1 in 5 adults. The World Health Organization (WHO) estimates that 350 million people worldwide suffer from depression.
Precipeace helps users deconstruct their negative thoughts prior to connecting with a mental health professional, or Mentors, within a simple, convenient platform. Mentors are trained to listen, guide, support and challenge individuals to break through their emotional roadblocks and gain control over their lives.
The release of Precipeace coincides with a rising interest in improving access to treatments designed to improve mental wellness. By utilizing mobile and web technologies, Precipeace puts the power of achieving mental wellbeing and healthy living at their members' fingertips.
To find out more about Precipeace, visit http://www.precipeace.com.