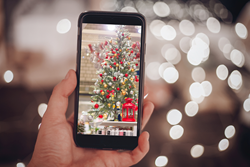 Our customers tell us that, by using our app, they are able to implement and monitor in-store activities in a way that would be impossible a few years ago
MIAMI (PRWEB) December 06, 2017
Holiday season means shopping. With the current extent of Internet shopping, these days - more than ever – brick-and-mortar retailers, along with CPG manufacturers, are desperately fighting for shopper's attention.
In the past couple of years, they have been getting extra help: mobile merchandising apps are being used to make sure that store and product appeal are at their full potential.
Mobile merchandising apps are a platform for retailer staff and auditors, as well as field reps, to perform in-store activities right from their smartphones and tablets. This allows marketing, merchandising, and operations managers to keep a tight grip on what is going on at each point-of-sale or store location, sometimes supervising daily activities over a large geographic territory.
"Our customers tell us that, by using our app, they are able to implement and monitor in-store activities in a way that would be impossible a few years ago", says Sergey Gorbunov, CEO of VisitBasis, software company responsible for the namesake mobile merchandising app. "The activities include anything from installing decorations or special displays to making sure that stores are properly stocked and products are correctly displayed", completes.
Just by closely monitoring stock levels alone during a high-demand season, brick-and-mortar retailers can avoid losing shoppers and sales to other physical stores as well as to online competitors.
For prospective users, VisitBasis offers online demos, as well as a 14-day free trial. For more information, go to http://www.visitbasis.com.
About VisitBasis Tech, Llc.
VisitBasis is a B2B software-as-a-service (SaaS) company specialized in the development of cost-effective, cutting-edge, and comprehensive mobile solutions that aim to increase sales and reduce costs, improving the bottom-line of businesses that rely on field professionals. The key benefit of VisitBasis mobile merchandising app is to optimize retail execution, merchandising, field marketing, mobile data collection, retail audits, territory management, sales rep planning, tracking sales, mobile staff management, electronic product catalog, sales enablement, among others, especially in the consumer product goods (CPG) and fast-moving consumer goods (FMCG) industries. Other VisitBasis products include VisitEye and Pocady.