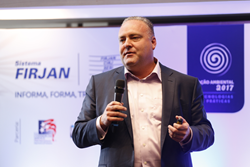 Allred received high praise for his in-depth understanding of and entrepreneurial passion for... uncovering and securing viable solutions for these almost overwhelming environmental upheavals
SALT LAKE CITY (PRWEB) December 04, 2017
Utah CEO, Richard E. Allred of ATS was invited by the US Department of Commerce to be a key presenter at Brazil's largest annual industrial and governmental environmental action conference held this week in Rio de Janeiro, hosted by Sistema FIRJAN. Sistema FIRJAN is a prestigious network of private nonprofit organizations with more than ten thousand associates.
Mr. Richard E. Allred, President, CEO and Managing Partner of ATS, headquartered in Midvale, Utah, generated significant enthusiastic interest among engineers, scientists, corporate executives, government ministers, and the Water Resources Technical Community for the nation of Brazil. Allred (MBA, Westminster College, Salt Lake City) has numerous business affiliations and professional connections in Brazil and is a recognized business spokesman for several environmental and water challenges inundating today's world.
Among its highest priorities, the Sistema FIRJAN Conference currently focuses on a myriad of water issues currently vexing Brazil and other populous and industrialized countries around the world. These include mitigation of nitrogen and phosphorus overload on water bodies, sub-standard and failing wastewater treatment infrastructure, invasive species control, water re-use, and many others. Allred presented details about a unique US-manufactured copper-based product, EarthTec®, that has proven efficacious against algae, toxic blue green algae, and mussels. His company will soon open facilities for manufacturing and distribute this product near Rio de Janeiro.
Another piece of Allred's presentation focused on the growing outcry for technological fixes for pollution from CAFO (Concentrated Animal Feed Operations) overload. Mitigation of this challenge is a huge priority for many of the world's regulatory bodies and is being approached with similar urgency and magnitude to global threats like climate change, deforestation, and over-fishing.
Allred received high praise for his in-depth understanding of and entrepreneurial passion for "leaving no stone unturned" in uncovering and securing viable solutions for these almost overwhelming environmental upheavals, then connecting the talent, resources, and solutions that bring about critical improvement. He has successfully brought focus groups and specialized teams together as he continues to work to unite government, civic, industry, technology, and resource preservation leaders across Brazil.
About ATS:
ATS provides global clean water solutions and industrial safety equipment to governments, municipalities, and the private sector. Founded in 1979, ATS helps communities and industries provide clean water to their customers, safe work environments for their employees, decreased operating expenses, and sustainable solutions for the future. Since its inception, ATS has focused on improving health and productivity for people worldwide.
For more information on ATS, visit https://atssmartsolutions.com or contact Ashley McIntosh at 800-747-9953.