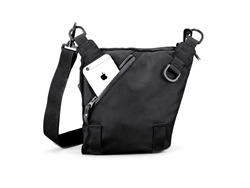 We want to thank all the crowdfunders who have helped us reach this milestone, and there's still time to order the new bolstr 2.0's in time to have it shipped to backers one week before Christmas.
CLEVELAND (PRWEB) December 01, 2017
The new bolstr 2.0, created especially for gadget-toting guys who have been waiting for a grab-and-go bag sized between a laptop bag and a holster, has raised more than $20,000 to double its campaign goal on Kickstarter.
"We want to thank all the crowdfunders who have helped us reach this milestone, and there's still time to order the new bolstr 2.0's in time to have it shipped to backers one week before Christmas," said bolstr Founder Jay Yoo. "It's really the perfect gift for the guy struggling to find the perfect everyday carry bag that is not too big and is not too small, and doesn't look like a man purse."
With bolstr 2.0, men can easily carry their smartphone, keys, wallet along with other items like sunglasses, a point-and-shoot camera, headphones, small tablet, external battery, notepad, pens, pocket knife, or other 'stuff' without having to lug around a huge laptop bag or attaché case.
"Bolstr solves the obvious problem for many men who have everyday carry (EDC) items they take everywhere they go, but don't have enough pockets for them," Yoo said. "While there are lots of laptop bags on the market, most are too big for EDC items only."
Fitting in-between a holster and a laptop bag, bolstr fills a sweet spot in the bag market for men. The bag's asymmetrical, minimal design provides optimum function in good form.
"We cracked the code on making a grab and go bag for guys that does not look like a man purse, so bolstr is legit with the guys," Yoo said.
Since launching the original bolstr in 2014, which raised more than $177,000 from crowdfunding backers, the bolstr project team has made important design improvements in response to feedback from customers and backers.
bolstr 2.0 features include:

Minimal asymmetrical design
Stealth smartphone pocket
Quickdraw sunglass pocket
Fidlock magnetic fast access pocket
Sized to fit an 8" tablet
Dedicated AirPod/Money pocket.
Ergonomic shoulder pad (sold separately)
External and internal d-rings for key carry
YKK waterproof zippers
1680D Ballistic Nylon / DWR Canvas
Bolstr 2.0 is available in ballistic nylon and DWR-coated canvas in either in stealth black, stone gray or drab olive colorways and based on customer feedback, bolstr's carefully considered pocketing, the strap and zippers were updated during the redesign phase.
"Our new bolstr 2.0 bag keeps everyday carry items masterfully organized and in one place at all times, making minimal EDC effortless," he said. "Guys will enjoy bolstr's current design concept that combines minimalism, functionality and asymmetrical geometries in a modern, man-sized form. The bag's ergonomic universal strap provides an unparalleled, crossbody fit, and a removable elastic waistband keeps the bag snug to the body."
Orders received during the current crowdfunding campaign will be shipped by Monday, Dec. 18.
For more information or to purchase bolstr for delivery in time for the 2017 holidays, visit the bolstr campaign page on Kickstarter.
About bolstr
Bolstr launched in August of 2014 on Kickstarter as a perfectly sized and minimal EDC bag for men to tote a smartphone, keys, wallet, sunglasses, but not much more. To many people's surprise, the first campaign was 1,777 percent funded in 30 days and was one of Kickstarter's most successful bag projects. Receiving worldwide acclaim, with mentions in popular tech blogs TechCrunch and Gigzine, as well as local media, bolstr proved the need for a small carry bag for men that eludes the man purse stigma. Bolstr is committed to simplicity in products for in-pocket, in-bag and small carry. That's it. By simple we mean refined and well thought out. For more information, visit https://www.bolstr.xyz/.