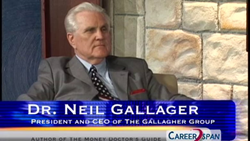 Los Angeles, CA (PRWEB) December 01, 2017
Retirement calculators are what some are calling the ultimate prediction devices of the modern financial planning world. You simply plug a few inputs into the corresponding boxes online and detailed financial snapshots of your future speedily and magically pop out. These calculators sound almost too good to be true; they're insanely simple, cost effective, and do all of the hard work and heavy lifting for you.
However, W. Neil "Doc" Gallagher, firmly advocates that a machine is no match for a caring person, saying that running numbers through a retirement calculator "takes care of 20% of retirement success, maybe."
"A pre-retiree must be able to look at his or her financial counselor and ask straight on: 'If I did not have any money with you, would you still care about me?' A retirement calculator can't answer that."
Doc Gallagher maintains that his years in financial planning have showed him that a rich and robust retirement is a financial, spiritual, emotional, and family-oriented commitment. "Something as monumental as retirement has to include "protection against the biggest financial threat to America, provisions for guaranteed income and guaranteed growth, and programs for protecting ones estate against excessive taxes and eager predators," Doc says. Putting your age and household income into a machine can't ensure those necessities.
For more information on Dr. W. Neil Gallagher and Gallagher Financial Group, go to http://gallagherfg.com/